AAC Awareness Month 2022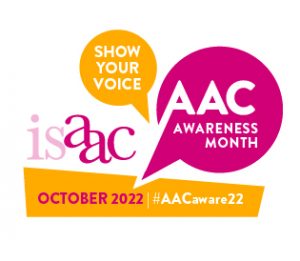 Show Your Voice! That's the theme for AAC Awareness Month 2022 in October. The ISAAC LEAD Committee is planning now and we would like your feedback.
Why "Show Your Voice"? 
Having a voice and showing it can mean different things to different people. 
One way is to show a voice is literally, by displaying the technology and methods used to speak. Another way to show a voice is by displaying technology and methods to advocate for people, causes, and change in the world.
Through this theme, we want to give the AAC community opportunities to show our voices, whether it's on social media; showing how we use technologies to communicate effectively; displaying the talents of persons who use AAC in other ways; or highlighting actions that promote communication access.
"Show Your Voice" events
We're planning a single day event with on-line panel discussions in October. These will be on topics important to the community around the theme of "Show Your Voice."
In addition, in the months leading up to AAC Awareness Month we are planning activities and challenges to help you to "Show Your Voice."  There will also be opportunities for members of our community to help make the events of AAC Awareness Month a success.
We want to hear from you, the community, about AAC Awareness Month 2022. Take our survey where you can rank your preferences and share your ideas about topics. Deadline is May 19, 2022.

If you have any questions or comments, or if you would like to learn more about the LEAD project, please email Kevin Williams daretolead@isaac-online.org.

print