Archive material
Activities scheduled each year during the month of October vary from country to country. Awareness days and social events, such as morning or afternoon teas and open houses, can help create a sense of community. International events, such as published collections of stories, videos and songs, are other exciting ways that people have come together in past years promote AAC awareness. See below for examples of events, materials, and ideas that could be adapted for your celebration of International AAC Awareness Month this year.
2020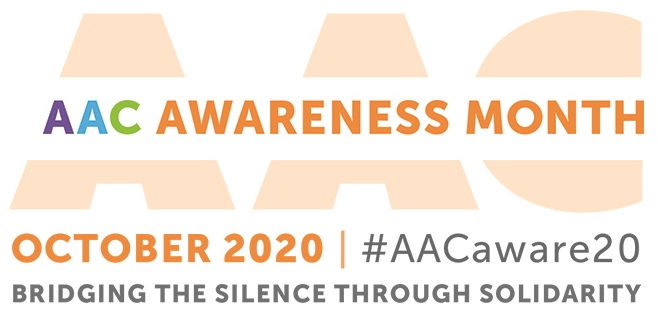 ISAAC International
The ISAAC Research Committee hosted a number of events in October to mark International AAC Awareness Month. The first was a 30-minute webinar, presented on October 7th, on AAC and Decision Making by Janice Murray PhD, FRCSLT, Professor of Communication Disability (AAC), Manchester Metropolitan University.
https://www.callscotland.org.uk/professional-learning/webinars/WEB177/ 
Submitted by Beata Batorowicz on behalf of the ISAAC Research Committee, is a project for AAC Awareness Month being conducted at the Centre for AAC, University of Pretoria in South Africa, in collaboration with Future Africa (UP) and UNICEF.  This project focuses on the development of health education materials for persons with severe communication disabilities. Persons with severe communication disabilities, caregivers, health care professionals, and postgraduate students worked together on the development and dissemination of these materials. For more information, click here. 
nnn
Australia
Assistive Technology Australia celebrated International AAC Awareness Month 2020 in October by posting on our Facebook AAC-related topics on the first three Mondays, followed by a Zoom open house on October 26th.  Our subject experts, Caytlin Weir (ATM & AAC user) and Aparna Baskshi (OT) reviewed the questions we received over the three weeks and shared their thoughts.
Assistive Technology Australia hopes to increase AAC awareness and add value to people's choice and decision making. Like and share our Facebook page:  www.facebook.com/ILCNSW​.​
nnn
Chile
Hello from Chile! We held a Zoom Webinar on October 1st to talk about AAC and motivate the community to learn about AAC and how to teach AAC. We will share successful experiences in CAA and quick communication boards to print, in order to let people know that those who require AAC can start now.
– submitted by Claudia Marimon Rigollet, Buenas Practicas de CAA, ISAAC Member from Chile
Egypt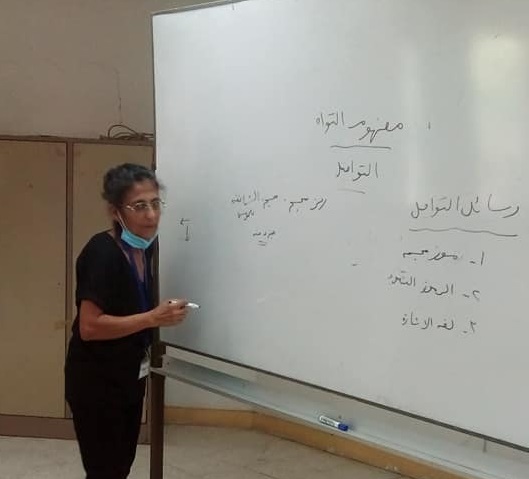 As a starting event for the AAC Awareness Month in October, I would like to share with my colleagues and ISAAC members, and people who use AAC around the world, these photos from the first day of the Communication Disorders Course at the Training Center of the Right to Live Association, Cairo, Egypt.
With all precautionary measures in place, we explained the concept of alternative communication and hologram symbols as emoji communication, and the next day continued with a workshop in tool manufacture.
Please enjoy these videos compiled during the Communication Disorders Course – courtesy of Yvette Abdel Malek.
December 20, 2020 – I would also like to share with you my experience working in AAC workshop with university graduates studying their Speech Diploma in Ein Shams University. I lectured about how to communicate using AAC with people with CCN.All participants did great job making AAC material..board for needs..schedules..daily life books..with very simple tools. They enjoyed doing and working in teams.
اشاركم خبراتى مع متدربين خريجى جامعات فى ورشة عمل عن استخدام طرق تواصل مع أشخاص لديهم صعوبات تواصل ويصمموا ادوات التواصل من لوح احتياجات.جداول كتب حياة يومية .قصص
فى دبلومة تخاطب بمركز ارشاد تربية عين شمس.الكل يعمل فى فريق ويتنافسوا فى منتجهم وهو مبسوطين جدا.وانا سعدت بحماسهم وتعاونهم
ربنا معاهم فى شغلهم فى هذا المجال
– submitted by Yvette Abdel Malek
nnn
ISAAC-Español
nnn
ISAAC-Israel
Please enjoy this video from ISAAC-Israel, created in celebration of AAC Awareness Month.
– submitted by Adi Ne'eman
nnn
ISAAC-Taiwan
ISAAC-TAIWAN and Chung Shan Medical University cooperatively spread out several short versions of "AAC Introduction" and "Myths for Dummies" posted in Facebook (@CSMUSLPA) beginning in October 2020. These were prepared by undergraduate and graduate students and mentored by Professor Meng-Ju Tsai from the Department of Speech Language Pathology and Audiology at Chung Shan Medical University in Taiwan.
nn
nn
nn
ISAAC-UK
The Communication Matters Sessions: A Series of Twilight Presentations for AAC Awareness Month

ISAAC's UK Chapter (Communication Matters) hosted a series of virtual events throughout October (for AAC Awareness Month) to help raise awareness of AAC and vital funds for the charity. Our main source of funds comes from running events and the pandemic has had a huge impact on our income and our members this year.
"The CM Sessions" had both academic and social elements, and was held every Thursday afternoon in October (1st, 8th, 15th, 22nd and 29th). All the resources were available online for 30 days. Presentations from a range of speakers associated with AAC included a keynote speech from the ISAAC President 2018-2020, Meredith Allan.
There were also be innovative presentations from Gail M. Van Tatenhove (Speech-Language Pathologist in Florida), Gloria Soto (Professor in Special Education in San Francisco), Catia Crivelenti de Figueiredo Walter (Associate Professor in Rio de Janeiro) and several organizations in the UK, including ATtherapy (an independent speech and language therapy service), the Seashell Trust (a national charity for children and young adults with communication needs), and some personal stories from members who use AAC. Last, but not least, there were several short presentations from AAC supplier companies about their latest products.
To find out more about these virtual events, please visit  https://communicationmatters.org.uk/what-we-do/the-cm-sessions or contact the Communication Matters Office at admin@communicationmatters.org.uk.
– submitted by Emily Campbell
nnn
ISAAC-US
ISAAC's US Chapter (USSAAC) was pleased celebrate AAC Awareness Month.  in October. We had several activities happening. First, USSAAC President Yoo Sun Chung, Ph.D. created an AAC Awareness Video. Secondly, On Wednesday, October 14th from 7pm-8pm, Stephanie Faso, MA presented a special AAC Awareness Month webinar.  The webinar was entitled, "A Discussion of Empowering Autonomy and Self in Individuals with AAC Needs."  Next, we invited people who use AAC, their families, and other USSAAC members to submit videos stating their favorite part of being a part of USSAAC.  We created two USSAAC virtual backgrounds for the videos, which will be posted on our Awareness webpage. Finally, USSAAC Vice-President for People Who Use AAC and Their Families, Tracy Rackensperger, Ph.D., addressed AAC awareness in the age of COVID-19 in the SpeakUp! blog.
– submitted by Yoosun Chung
Malaysia
Your Communication Matters Speech & Language Therapy will be promoting AAC awareness in Malaysia via 2 main activities:
1. An interview on AAC with BFM: The Business Station, Malaysia's only independent radio station, will be aired on the October 21st, 2020 (Wednesday) at 4.05pm (GMT+8). It is entitled: Health & Living: Using Aids for Communication Challenges. This interview will also be available as a podcast on https://www.bfm.my/podcast
2. A webinar entitled Symbol-based AAC: Exploring TalkXpress, GoTalks and Proloquo2go will be conducted on October 29th, 2020 (Thursday) from 10am – 12 pm (GMT+8). This webinar targets Malaysian/Singaporean parents and professionals who work with individuals with complex communication needs and will feature local case studies. For more info, please visit: https://ycmspeechandlanguagetherapy.business.site/
– submitted by Deborah Yong, SLP, AAC Specialist
nnn
Si
ngapore
SPD's Specialised Assistive Technology Centre (SATC) team has mapped out a month-long journey to create more awareness of AAC:
.
Week 1: A video introduction to AAC and how it helped two individuals communicate better with their family and friends.
Week 2: A compilation of videos from our "Bonding-Moments Competition" featuring our clients using AAC to interact and bond with their friends and family.
Week 3: Get to know Team SATC through a fun video of an interview by Elfred, our young and fun-loving AAC user.
Week 4: Catch our 2-part webinar, streamed 'live' over Facebook on Friday, October 30th, on ways to communicate with persons who use AAC. There will be Q&A sessions where a panel consisting AAC professionals, a person who uses AAC, and a caregiver will answer questions about AAC, its use in different scenarios and assistive technology in general. Details soon!
South Africa
The Centre for AAC (CAAC) at the University of Pretoria in South Africa aims to provide research and training to improve the lives of people with severe communication disabilities. Initiatives for AAC Awareness Month 2020 can be found on the CAAC Facebook page, here.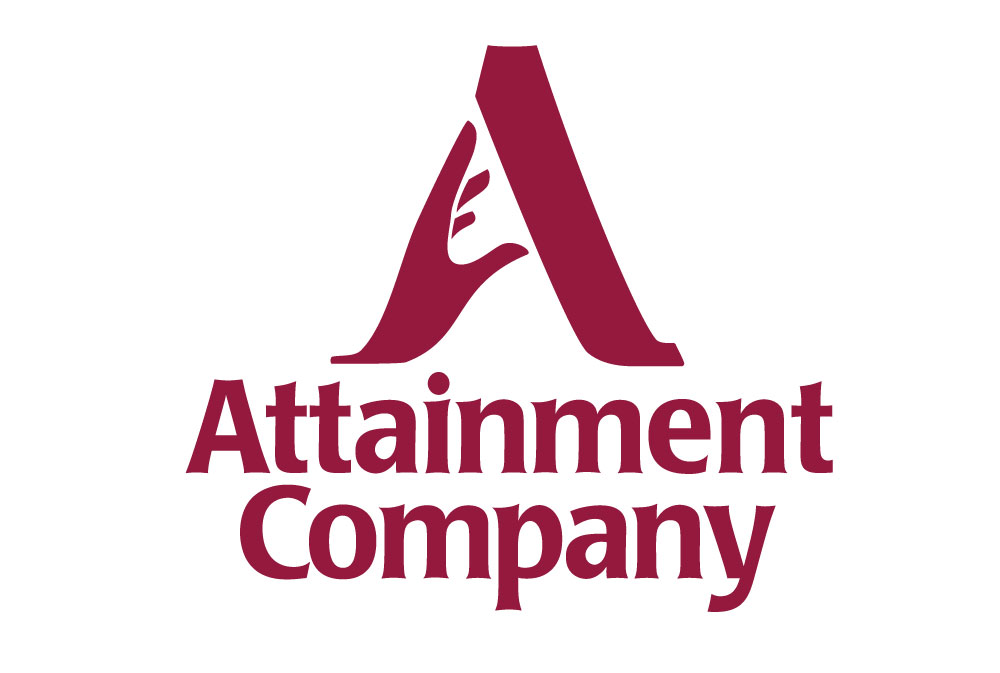 Official Sponsor in support of International AAC Awareness Month 2020
2019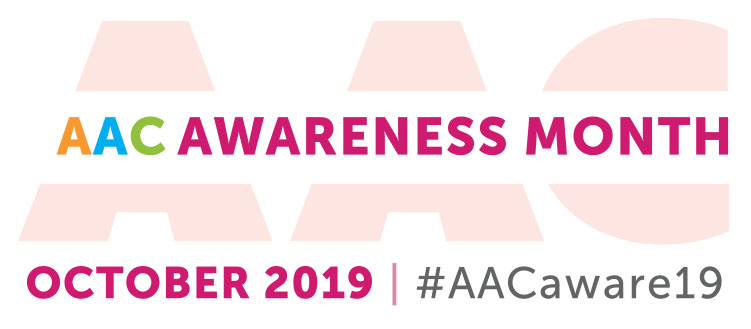 ISAAC members are planning events and activities during October that bring to life the visions of people who use AAC. Our theme for this year is Communication Beyond Borders. Here's how you can join in:
ISAAC is pleased to release a series of AAC awareness videos for International AAC Awareness Month 2019. Thanks to Lateef McLeod, Chair of the ISAAC LEAD Committee, for recording the theme message.
We're pleased to present the 4th in our series of AAC awareness videos:
This video features an excerpt from, "Yolŋu families with MJD Prepare for a Different Future," submitted to the ISAAC 2018 Short Film Festival. AAC is making a difference for Aboriginal Australians in the Northern Territory who are at risk of MJD, a rare inherited neurological disorder. This community has the highest incidence rate of MJD in the world.
Released on Week 3 of AAC Awareness Month 2019, the video below features an excerpt from "Bliss iBand," one of the Top Ten Finalists in the ISAAC 2018 Short Film Festival. You can view the full video here. 
The above video is based on "Including Me: Ben's Story," one of the Top Ten Finalists in the ISAAC 2018 Short Film Festival, which you will find posted here. 
Much appreciation to the ISAAC 2020 Conference Team for providing the opening video clip for the above message. Watch the full video here.
Thank you for using the hashtag #AACaware19 on Twitter and Facebook!
Please send your AAC Awareness stories to Lateef McLeod at AACaware19@isaac-online.org and we will post them on this page!
Australia
An AAC Literacy Intensive at Currumbin Community Special School, Queensland, featured a Silent Morning Tea on October 3rd in honour of AAC Awareness Month.  Run by Jane Farrall and Sally Clendon. Details here.
Canada
News from ISAAC-Canada:  This year in Canada, October 12th was designated as 2019 AAC Awareness Day.
Colombia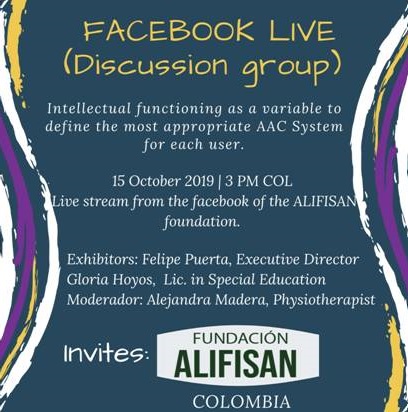 On October 15th: This event, conducted in Spanish, took place in connection with AAC Awareness Month.
– submitted by Felipe Puerta Jaramillo, on behalf of the ALIFISAN Foundation
Denmark
On October 7-8:  ISAAC Denmark marked its 30th anniversary and at the same time celebrated AAC Awareness Month with a two-day seminar.
Gloria Soto, Guest Speaker, is a Professor in the Department of Special Education, San Francisco State University. On the first day, the theme was bilingualism and AAC, with contributions from Swedish linguist Lorna Bartram on the same subject. On the second day, Gloria co-presented with Mascha Legel from the Netherlands, discussing how to support children who use AAC to tell personal stories that are an important part of identity creation.
For a complete summary of activities for International AAC Awareness Month in Denmark (as submitted for the December issue of The ISAAC Communicator), please click here.
– submitted by Birgitte Brandt
French-Speaking Countries and Regions
ISAAC-Francophone members are hosting many events and activities during AAC Awareness Month — especially many activities in libraries! Click here for a details.
Follow us on our new Facebook group : Octobre : mois de la Communication Alternative et Améliorée CAA
– submitted by Isabelle Guillot 
Singapore
For AAC Awareness Month, speech therapist Deborah Yong from SPD's Specialised Assistive Technology Centre shares her experiences in an interview with senior communications and outreach executive Melissa Tan.
Also from SPD, this wonderful video:  "Eric's AAC Journey."
USA
USSAAC created a list of its plans, activities and ideas to share for AAC Awareness Month 2019. More resources are posted here. A free webinar, My Story of How Getting a Speech Device Changed My Life, with presenter Todd Hutchinson, was held on October 16th. Find out more here.
An AAC Awareness Week was organized at the Knock Knock Children's Museum in Baton Rouge, Louisiana. Co-Directors Dr. Daphne Hartzheim and Shannon Farho, of the AAC Lab in the Communication Sciences and Disorders Department at Louisiana State University, partnered with the Louisiana Accessible Education Materials (LA AEM) Team, consisting of Katie Sample, Josh Miller, and Justin Sims. We recruited undergraduate and graduate students to help out. Our team spent all day Sunday, October 13th at the museum communicating with high-tech AAC devices with touch and eye gaze access. Communication boards and symbols were hung throughout the museum to enhance symbol communication. Devices were programmed with vocabulary that was necessary for the different centers at the museum. Our team wore capes that read "Communication is my Superpower! What's yours?"
We spoke with children and adults about AAC and what it is, we let them touch the devices, challenged them to build sentences with symbols, made them laugh with funny phrases and let them experience eye gaze access. The reactions from the visitors of the museum varied from being a little suspicious and shy, to being curious and eager to try. But overall we found them to be excited about learning about alternative ways to communicate and they were amazed with the possibilities that exist.
Katie Sample from the LA AEM Team held an AAC story time with a Halloween themed book. Children were involved by learning signs and participating with symbols.
On Tuesday (October 15th, 2019), Wednesday (October 16th, 2019), and Thursday (October 17th, 2019), we returned to the museum with volunteers and continued to spread awareness among the visitors.
We received positive feedback from museum visitors, volunteers, staff, and students. This was our first year of AAC Awareness activities and we learned a lot for the future. We are excited to continue the partnership in the coming years. "Geaux" LSU! "Geaux" AAC!
| | | | |
| --- | --- | --- | --- |
| | |   |   |
nnnnn
– submitted by Daphne Hartzheim
nnnnn
Emerson Hospital, Massachusetts, shared their video, "Living with a Motor Speech Disorder," with us. The video is posted on their Facebook page for AAC Awareness Month, to shine a light on the impact AAC can have on the lives of people with a communication disability.
– submitted by Olivia Craigen
2018
Many thanks to Attainment Company, Sponsor of AAC Awareness Month 2018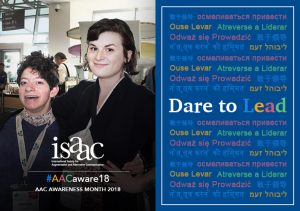 Click here to view the AAC Awareness Month infographic (PDF, 120 kB)
Dare to Lead was this year's theme for International AAC Awareness Month. ISAAC members have held events and activities that bring to life the visions of people who use AAC toward future leadership opportunities – locally, nationally or internationally.
From ISAAC, USSAAC, and Attainment Co.
"Empowering Communication Partners: Practical Ideas to Support Individuals with Complex Communication Needs": a one-hour webinar on October 29th in celebration of AAC Awareness Month. ISAAC and USSAAC, in partnership with Attainment Company (AAC Awareness Month 2018 sponsor) hosted a webinar with presenters Jill Tullman (Principal, Jill Tullman & Associates,) and Joni Nygard (Vice President, Attainment Company). The focus of the discussion was to explore the foundations of AAC that are embedded within research. Several families who utilize AAC strategies, techniques, applications, and devices throughout their day were introduced, and practical advice for communication partners to create successful interactions for individuals who rely on AAC were shared. Video excerpts illustrated easy-to-use strategies within daily routines or classrooms for individuals of all ability levels, across ages, including young adults. A recording of the webinar is available here.
Scope Australia is continuing a longstanding AAC Awareness Month tradition of encouraging people to get together and share a Silent Morning Tea. Take a few moments to listen to Mel Smith explain how it works:
October 11th was AAC Awareness Day in Canada. "I work many kids who use high tech devices that love swimming! How does that work? I screen capture their home page (core page) and laminate it leaving at least a half inch of laminate overhang so it is fully waterproof. Then we take it to the pool. If you dip it in water it will stick really well to anything else wet! (Gotta love the science of that). Typically we stick it to a flutter board and float that around us but it also sticks to the side of the pool, the shower wall, the bathtub wall, any wet surface. I can't believe how well this works!! Why would kids not have access to their voice during one of their favourite activities? I know most kids love water but electricity is not a big fan of it. I'm proud to have problem solved through that one, and the outcome was successful. This is the post from my Facebook group with Google images: https://www.facebook.com/groups/233510153984920/permalink/239145570088045/"
Yvette Abdel Malek shared photos of an AAC Awareness Month workshop to raise awareness among  students at St. Peter school (kindergarten to high school).  Two AAC users led discussions about AAC concepts. Videos about different means of communication were shown, and stories by and about people who use AAC were told. Presentations used pictures dealing with behaviour problems and the concept of right and wrong. For more, visit Yvette on Facebook.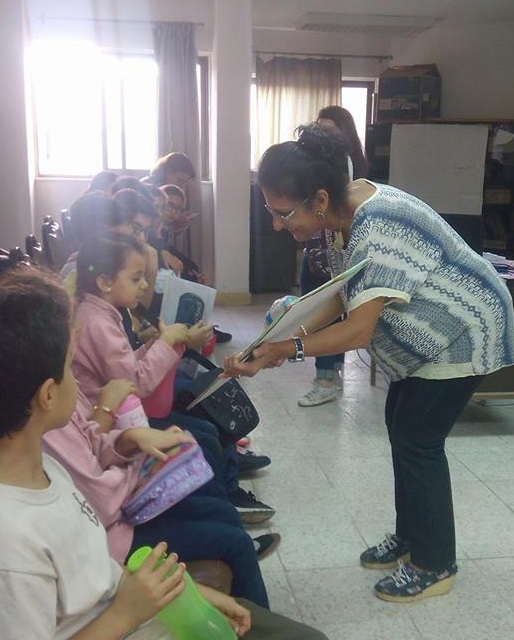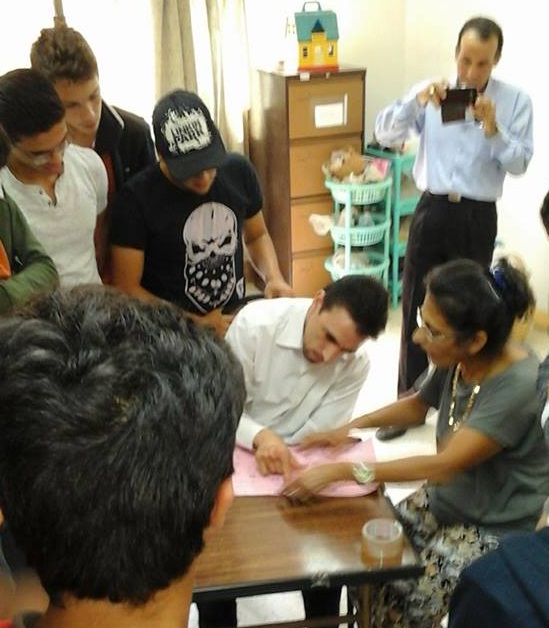 Photos courtesy of Yvette Abdel Malek 
Kathrin Lemler, an AAC user from Germany, gave a talk at the Lovelace Festival on October 12th. The Festival theme this year was "Ideas to Change the World". Kathrin's speaker bio is posted here. For more information, check out the full program.  
See the exciting 2018 AAC Awareness Events in Brazil, here and here !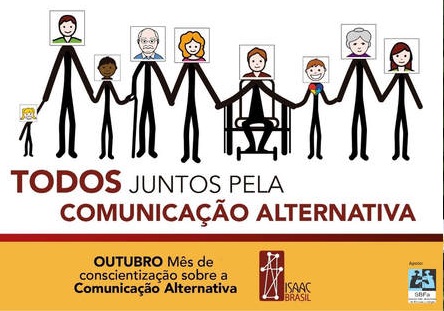 This year AAC week awareness events were held across India in a varied and unique manner. In Eastern India, the Indian Institute of Cerebral Palsy in Kolkata led an awareness program. People who use AAC were involved in cultural festivals. They  inaugurated the religious celebrations of the Durga Puja by putting on plays, using signs and gestures. They also had an awareness program in schools and colleges. In Western India, the Speech Language Department of Bharathiya Vidyapeeth Deemed University conducted a successful workshop for caregivers, an AAC exhibition, and speech-language, communication and feeding assessment camps. A unique Spelling Bee Competition using Indian sign language alphabets was also very much enjoyed. In Northern India, AADI, the Centre for Inclusion, held a series of interactive sessions between AAC users to create awareness among young parents. An Assistive Technology Conference by the Indian Institute of Delhi saw many AAC users presenting papers on the need for more indigenous technology. Many developers, speech pathologists, rehab professionals, and people who use AAC attended and many solutions were discussed. In South India, Vidya Sagar held a successful AAC Open Day, featuring a display of communication devices and systems. It was well attended by speech therapists, students, developers, technologists, funders, parents  and AAC users. An AAC assessment camp was also conducted and a workshop was held for corporate employees to create awareness about AAC. The Department of Speech Therapy of the prestigious University SRM also conducted an awareness program on AAC.
On the whole, many awareness events were held across the country and media coverage was excellent!
From ISAAC-NF (Netherlands and Flanders)
On October 9th ISAAC-NF hosted "Everyone Communicates," a successful conference with over 150 attendees. Valerie Schoonen and Nathalie Verstegen, both AAC users, opened the conference with an impressive film, which they wrote and filmed themselves. They are planning to submit their film to the ISAAC Short Film Festival 2020.
To celebrate AAC Awareness Month's theme, "Dare to Lead", ISAAC-Poland is profiling people who communicate with AAC s on Facebook. So far, profiles of Agnieszka Bal, Meredith Allan, and Ani Kazimierczak are up on the page, here.  They are asking people of different ages, who use different forms of AAC, to submit a brief note with a photo or a short film clip together with the permission of the author / parent to publish. Please contact: mbsbiuro@gmail.com.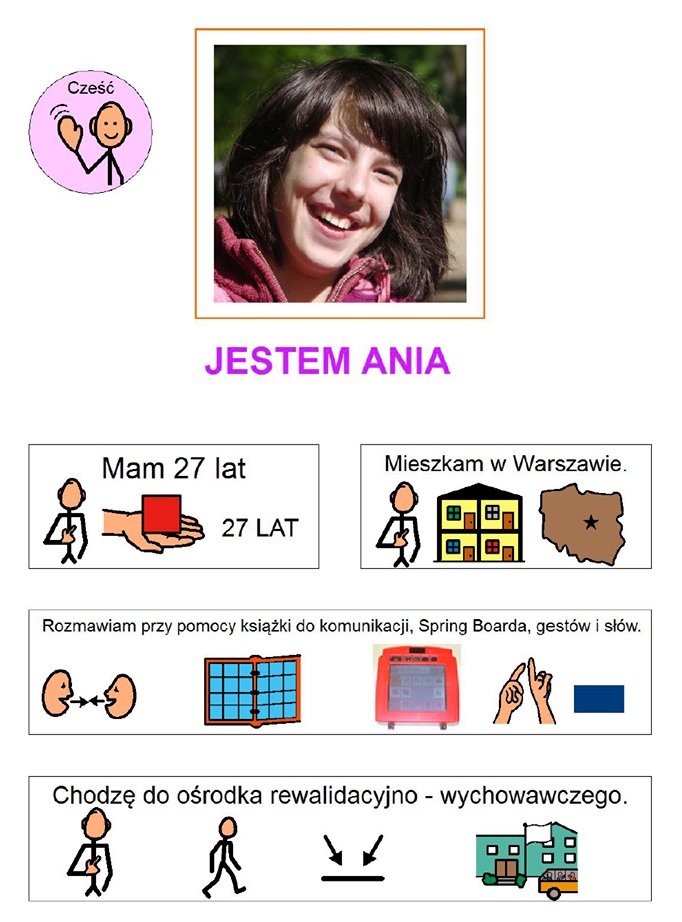 Please enjoy this newsletter from ISAAC-Poland, with photos and summaries (in Polish) of AAC Awareness Month highlights!
Photos from AAC Awareness Month events in Russia have been posted here.
As part of the the University of Pretoria's Centre for Augmentative and Alternative Communication (CAAC) October AAC awareness activities, two staff members conducted some training in Windhoek, Namibia, under the auspices of the Autism Association of Namibia. The training was attended by parents, teachers, teaching assistants, psychologists, and speech-language therapists, and everyone seemed to have lots of fun learning to use various AAC strategies. See more on CAAC's Facebook page.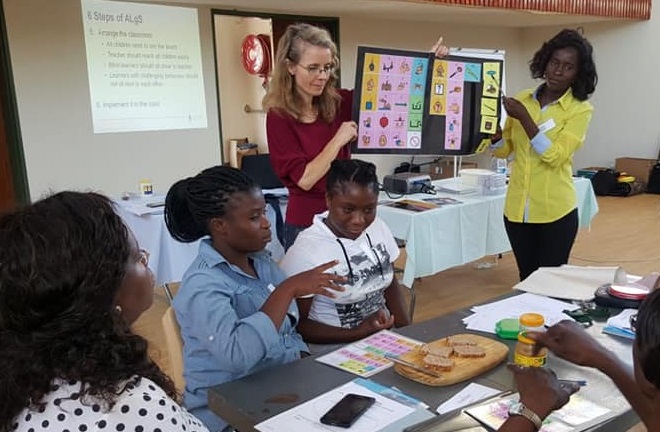 Follow Ace Centre on Twitter for daily #AACaware18 tips, videos, and more!
Communication Matters (ISAAC-UK) is grateful for the support of Kate's Sponsored AAC Challenge. Kate Robinson's way of marking AAC Awareness month is to challenge herself to use only AAC to communicate both during work and in her free time on Tuesday, October  23rd. She aims to raise both awareness about people who use AAC and their families, and funds for Communication Matters.
USSAAC Awareness buttons and cards are available for download here. Check out the variety of AAC  Awareness Month posts on USSAAC's Facebook and Twitter.
Browse this helpful list of resources and ideas by Carol Zangari at PrAACtical AAC Blog: More Ideas for AAC Awareness Month 2018
Hello! At Fayetteville Public Schools in Arkansas, we are celebrating AAC Awareness this month! We have started by creating a giant AAC Device on our bulletin board and will be providing resources and different types of devices on a second bulletin board nearby. If you have any printable resources you think would be good for our information bulletin board, will you please send them to me? Thank you! Savannah Saunders (760)822-8957 savannah.saunders@g.fayar.net
On October 14th, graduate clinicians in the Speech-Language Pathology Masters program at the Ohio State University hosted an advocacy and awareness event for AAC Awareness Month in Columbus, Ohio. The event was an open house with activities to simulate using AAC and practice being a communication partner for persons who use AAC, as well as increase awareness of the importance of AAC to the community. The event was promoted to families of users or soon-to-be users of AAC and first-responders, as well as the general population.
---
2017
Theme:  AACcess All Areas
ISAAC-Brazil is proud to announce that our first AAC Awareness Campaign held in October this year was a big success. The most representative cities in Brazil, such as São Paulo capital, Belo Horizonte, Suzano, Campo Limpo Paulista, Bauru, and São Carlos do Pinhal, were engaged by the initiative with their hearts and souls. We strongly believe that this campaign, together with our regional meetings held across the country, are promoting AAC awareness and we are very optimistic about spreading this more rapidly in 2018. Check the details on our website: www.isaacbrasil.org.br
October 12th was designated as 2017 AAC Awareness Day by ISAAC-Canada.
This year, the province of British Columbia on Canada's west coast honoured our citizens who use AAC with special events during AAC Awareness Month.  Speech-language pathologists from the Vancouver school district shared materials with their colleagues in the Inter-District AAC group of school-based speech-language pathologists.
A highlight of AAC Awareness Month was our third ICEwest Conference. It was a smashing success! Eighteen attendees enjoyed a varied program facilitated by people who use AAC systems. Alberta joined in for the first time and both sites watched and listened to the speaker from the Toronto site in the morning. In the afternoon, at the Town Hall meeting, there was incredible participation from the group, which led to discussions on important topics. A highlight of the day was a visit from Minister Shane Simpson, from the Ministry of Social Development and Poverty Reduction, who gave an inspired speech, met individually with our ISAAC Canada Webmaster and Social Media Coordinator Glenda Watson Hyatt, and watched part of the Town Hall meeting. We hope that our discussions will lead to innovative ideas before our next meeting in 2019.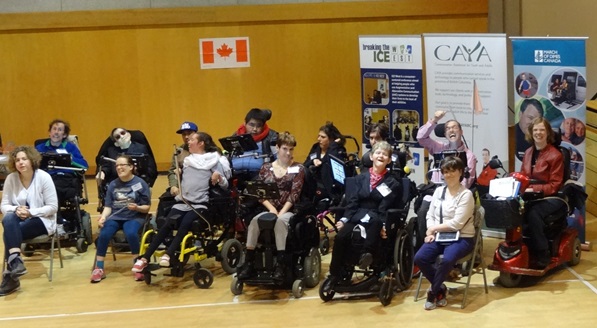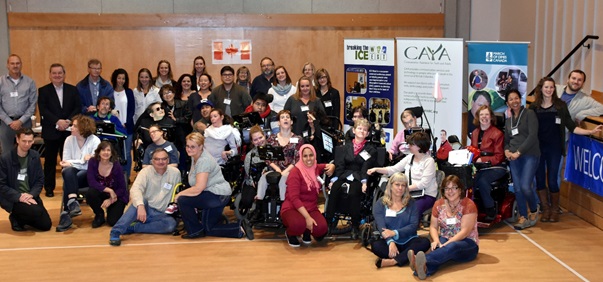 Hotel Dieu Shaver Health and Rehabilitation Centre, St. Catharines, Ontario, Canada – Submitted by Charlene Cratt
| | |
| --- | --- |
| |   |
On October 5th Hotel Dieu Shaver Health and Rehabilitation AAC team in St. Catharines, Ontario (pictured above), hosted a very successful Silent Tea to promote awareness of AAC. Approximately 80 people, including hospital staff, patients, senior administrators and friends from the community attended the tea and learned about different ways to communicate. Everyone was invited to choose a method of communication, say hello to our AAC ambassador, Kris, and hear the exciting news of  her  trip to Belgium, as part of the  drama group Aiding Dramatic Change. A  Silent Auction was held to assist with Kris's trip. There was time to sit to enjoy tea, cookies and aided conversation. The piles of post-it notes left on tables and the laughter heard let us know that it was a fun-filled event. Many thanks to Scope Australia for making procedures and materials for hosting a Silent Tea readily available online so that small clinics like ours can promote AAC in a big way.
AAC Awareness Month at Thames Valley Children's Centre, London, Ontario – Submitted by Tracy Shepherd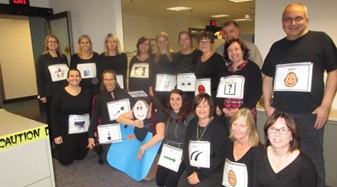 October 2017 was a very successful month for AAC awareness activities, ending with our team Halloween costume on the 31st: we are CORE words!
We also provided AAC awareness activities to 9 classrooms including:
kindergarten – 5 classes
grade 1 – 3 classes
grade 3 – one class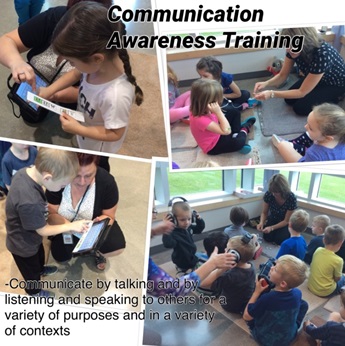 These activities had a direct reach to 200 students and 20 teachers and educational assistants. Our team provided overall education about AAC as well as giving students the opportunity to try it out to see what it's like to use AAC.  These sessions were focused specifically around kids in the class who use AAC so their peers got a chance to ask questions. Great feedback was given by the school teams, with one student commenting that afterwards they felt more like the friend who uses AAC in their class.
A Two-Day Event Celebrating Awareness Month: Transitions for People who use AAC – Submitted by Margit Grønkjær
In cooperation with governmental department of social services, (Socialstyrelsen) ISAAC-Denmark initiated a successful two-day event in Copenhagen. There were 100 participants, far more than expected. The keynote speakers were: Dr. David McNaughton, Professor of Special Education at Pennsylvania State University, and Dr. Signhild Skogdal, University of Tromsø, Norway.
David´s presentation over two days was called "Supporting Successful Transitions to Adult Life for Persons with Severe Disabilities." Persons with severe disabilities (and their family members) have new expectations regarding participation in society. Like all adults, persons with complex communication needs want to (a) have a safe place to live and to manage their personal care; (b) participate in meaningful activities; (c) access medical services; and (d) develop friendships and intimate relationships. Central to these desired outcomes is the ability to communicate effectively, and the need for supports both for the person with complex communication needs, and their communication partners.
| | |
| --- | --- |
| nnnnnnnnnnnnnnnnnnnnnnnnnnnnnn |                                            |
David McNaughton made a very vivid presentation; for instance, he used our local Board member, Jeppe, as an example of the many roads to literacy. If you want to see his final slides, they are posted here: http://aac.psu.edu/ The visions in David's presentation were very well illustrated in other presentations by Danish practitioners, who work with transitions in their daily lives. Jeppe Forchhammer told his own transition stories as a person who uses AAC.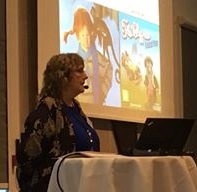 Signhild Skogdal focused on the inclusion of people who use AAC in public schools and the demands on school culture to succeed.
ISAAC-NF hosted 170 attendees, 20 presenters and 11 information market stands at their October 3rd conference. The gathering was an exciting kick-off for International AAC Awareness Month in Netherlands-Flanders!
The Department of Speech Language Pathology and Audiology in Chung Shan Medical University and ISAAC-TAIWAN hosted an AAC conference in Taichung, Taiwan on October 22nd. Professor Gregor Renner, ISAAC President, shared a topic "ISAAC as a Platform for International Collaboration: Networking with ISAAC Part of the Family." Over 100 undergraduate and graduate students (future SLPs) attended this conference. October 22, 2017, was also the 4th birthday of ISAAC-TAIWAN. Happy Birthday!!
Gregor Renner, ISAAC President, with Dr. Meng-Ju Tsai of ISAAC-Taiwan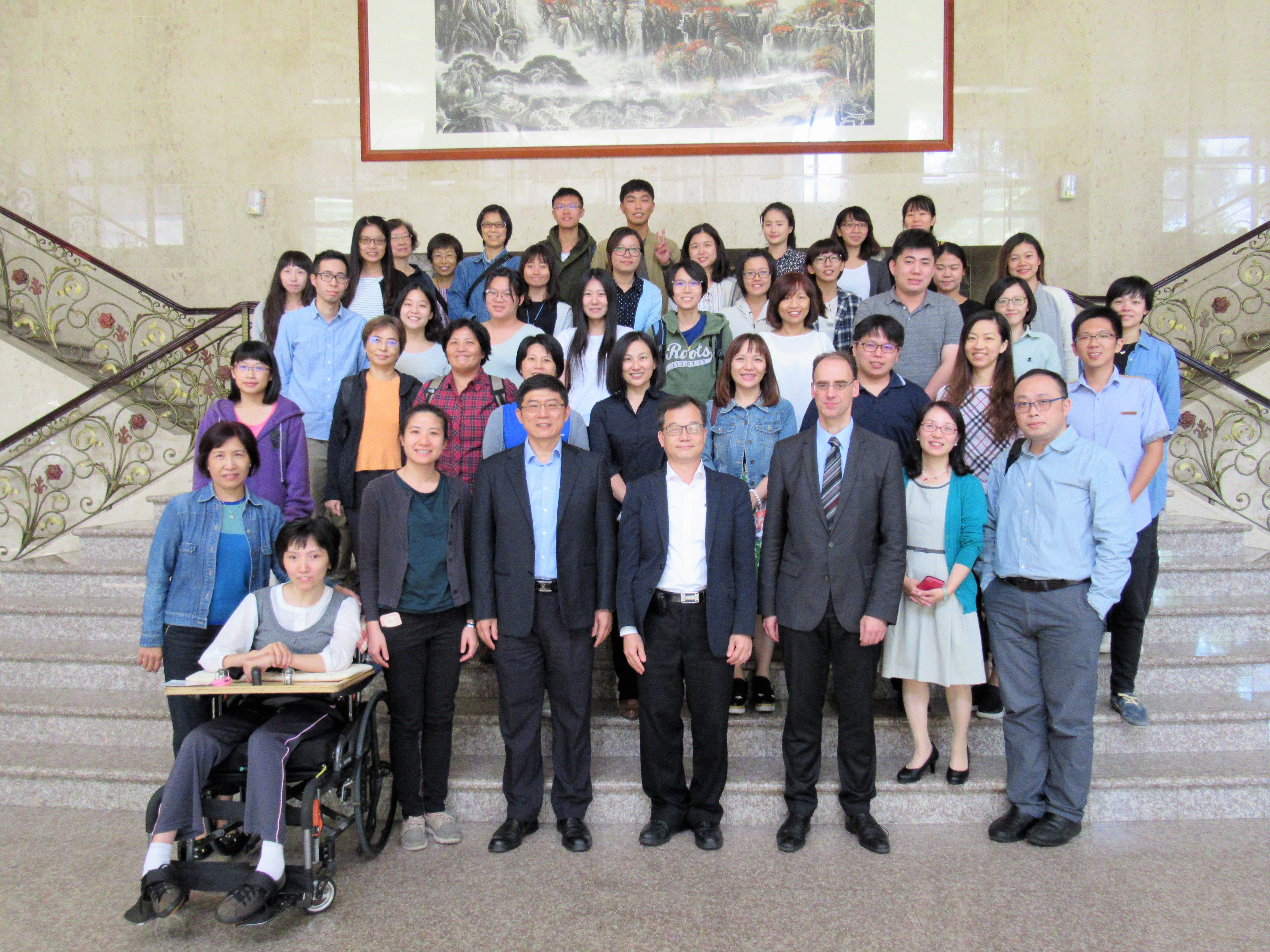 ISAAC-Taiwan AAC Conference participants, October 22, 2017 at Chung Shan Medical University
USSAAC Webinar Series:  On October 23rd at 7:00 p.m. ET, Yoosun Chung, PhD, will moderate a discussion called "Model the Way: Celebrating AAC Awareness Month." Presenters are India Ochs, JD and Jack Ochs. Click here for a recording of the webinar.
More from USSAAC on their SpeakUp Editor's Blog, including some new Awareness Month catch phrases with downloadable images.
The Centre for Augmentative and Alternative Communication (CAAC) in South Africa celebrated AAC Awareness Month in October. The goal was to raise awareness of AAC and to inform the South African public about the many different ways in which people with communication disabilities communicate using different AAC techniques and strategies.
The CAAC throughout the month of October shared AAC awareness videos online that were produced by the 3rd year Visual Art students at the University of the Pretoria in South Africa.
Here are the links to the videos shared:
The CAAC would like to take this opportunity to thank every 3rd year Visual Art student who dedicated their talents, time and effort in producing these amazing AAC awareness videos!
The CAAC also shared four chapters from our AAC Resource Manual online for free download (which can be purchased at this link:  https://www.facebook.com/centreforaac/videos/1341207872665797/). The Chapters included information about AAC in the home, setting up the AAC classroom for learning, how to make an E-tran and Talking Mats™. The Chapters can be downloaded from this link: http://www.up.ac.za/en/centre-for-augmentative-alternative-communication/article/2577982/aac-awareness-month-october-
Constance Ntuli, a person who uses AAC, disability advocate and a staff member at the CAAC organized an impromptu line dance with students at the University of Pretoria on the October 27th to raise awareness about AAC.
– Submitted by Robyn White, Lecturer at the CAAC
An International AAC Awareness Month event,  "Comunicación Aumentativa y Alternativa (CAA)/Augmentative and Alternative Communication (AAC)" took place in Barcelona, Spain, on October 26th. The aim of this event, held in cooperation with ISAAC, was to raise awareness of AAC and to inform the public about the many different ways in which people communicate using communication devices. During the session an Irisbond project was launched, which aims to evaluate how innovative AAC eye-gaze technology can effectively control mobile devices.
For more information, click here and here.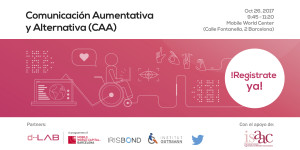 The 9th Annual 24-Hour AAC Chat was held on October 27th. Facebook Messages were used for the chat again this year, under the name "24-Hour AAC Chat 2017".  Congratulations to Judy Bailey judybailey@aol.com, organizer of this annual event.
To celebrate AAC Awareness Month 2017, graduate students in the Communication Sciences and Disorders program of St. Cloud State University in Minnesota designed posters in an effort to create awareness about AAC on campus. They went the extra mile and invited students from across campus to take a look at these posters and answered their queries. See below for a few of the posters. Submitted by the Department of Communication Sciences and Disorders, St Cloud State University, Minnesota, USA.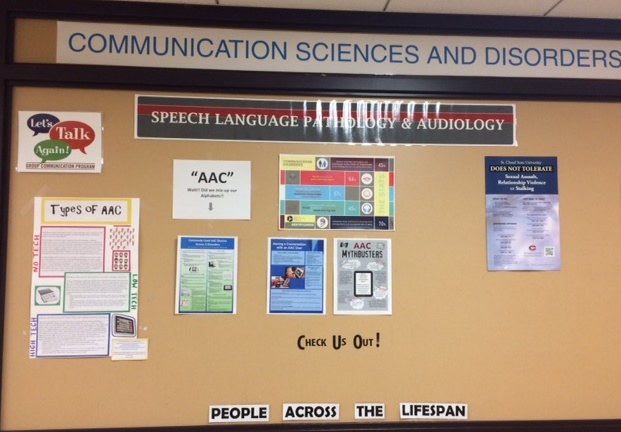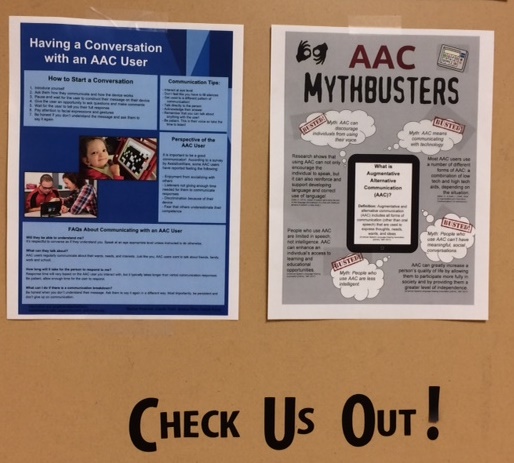 ---
2016
Theme:  AACcess All Areas
Submitted by Shelley Deegan
To celebrate AAC Awareness Month 2016, the Technology Access Clinic at Hamilton Health Sciences in Hamilton Ontario, Canada showed the films from the Film Festival at ISAAC 2016.  We invited people from across the hospital.  One good outcome was that a student in Recreation Therapy at a local college came to see the films during our event.  He shared the link with his professor and now the films will be used to spread AAC awareness with the college Recreational Therapy Program.nnnnnn
Submitted by Yvette Abdel Malek
Yvette Abdel Malek presented a lecture on Sunday, October 16th for 50 participants in the speech diploma program at Ein Shams University. People came together from different parts of the country to attend the lecture. She also hosted a workshop using speech and AAC material. Hayat Academy donated materials to support the work of her secondary school students who are creating AAC albums.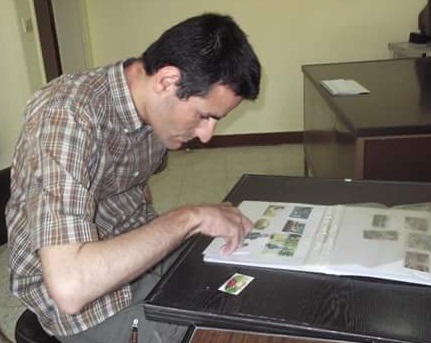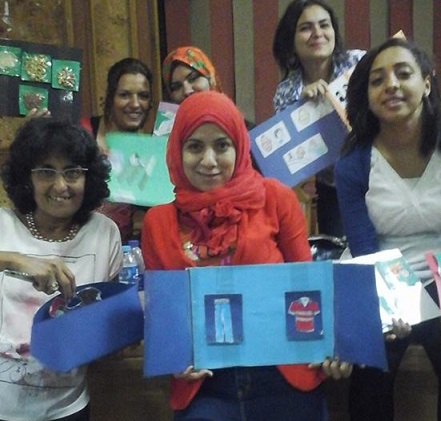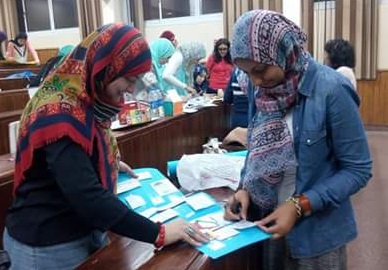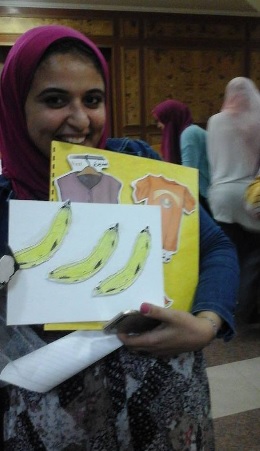 nnnnnnnnnnn
Submitted by Jeeja Ghosh
The month of October is a time for celebration – a celebration of abilities. We celebrated World Cerebral Palsy Day and AAC week together this month. The Indian Institute of Cerebral Palsy (IICP) observed World Cerebral Palsy Day on October 5, 2016.
The morning program began with an awareness program on cerebral palsy. This program was jointly organized by the Office of the Disability Commissioner for Persons with Disabilities – the state apex body responsible for disability affairs. The highlight of the program was sharing information regarding cerebral palsy from the perspectives of a medical professional and physiotherapist. The program was concluded by a cultural performance by the students and trainees of IICP. This performance and a vote of thanks, in the form of a poem, was scripted by Barsha Bhattacharya, a person who uses AAC.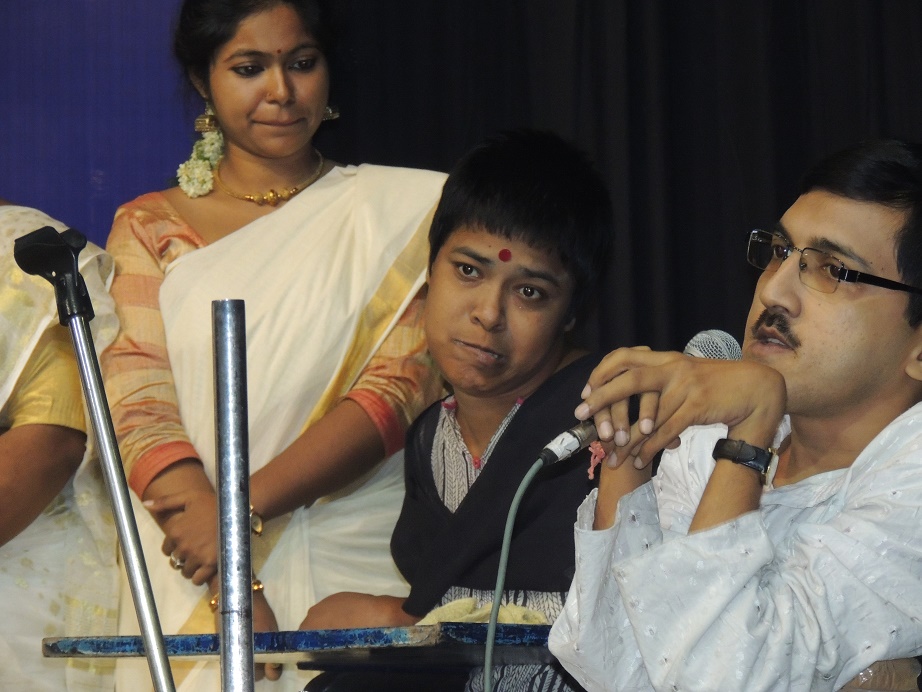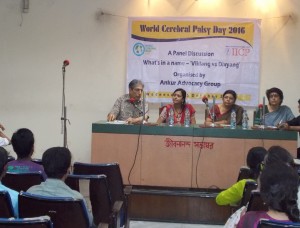 In the afternoon a panel discussion on "What's in a name: divyang vs viklang," discussed the government's proposition to change the Hindi term for persons with disabilities – viklang (incapable or incapacitated) to divyang (divine or god like). The panelists included Rantaboli Ray (Mental health activist, moderator), Prof. Surendra Munshi, (Retired Professor Sociology, IIM, Kolkata) Dr. Jhuma Basak (Psychoanalyst & Associate Professor, NSHM, Institute of Media & Design) Mamata Dev (Parent & special educator), Esha (Activist, art and culture) Dipak Ghosh (Disability rights activists & advocacy trainer, IICP). All the speakers in the panel were not in favour of the change in the nomenclature. Dipak, an AAC user, objected to being addressed as an 'extraordinary divyang'. He stated that while names are necessary for identification, the Government should adhere to the dictates of the UNCRPD to create opportunities for persons with disability, rather than focusing on names. Since many English terms are used officially, he strongly recommended the use of the phrase Persons with Disability.
nnnnnn
International AAC Awareness activities, including the National AAC Picnic on October 8th, are featured on ISAAC-Australia's blog.
nnnnnnnnn
Great enthusiasm was seen among members of Isaac India chapter in celebrating AAC awareness month. Organizations across India conducted different events creating awareness about AAC.
North India, represented by AADI, had as a part of AAC awareness program collated and displayed the various Communication aids being developed and used in India. A presentation by Mr Arun Mehta, a computer engineer, who developed a number of communication software and hardware was well received by participants from different NGOs and inclusive schools, parents.Also a group of professionals interested in AAC has been formed to meet once a month to share and discuss needs, information, thoughts and ideas. A weekend training course for working speech therapists and special educators on AAC is also planned starting in November for 6 weekends.
South India has two representations, Vidya Sagar, Chennai, an NGO working with children and adults with disabilities and by National Institute of Speech and Hearing (NISH), Kerala.
Vidya Sagar had chalked out a number of programmes as a part of AAC awareness month. As the theme was Access to AAC in all places, three public places were identified and in collaboration with the concerned authorities these places were made AAC accessible. The famous Birla Planetarium, Anna library and shopping mall were selected and AAC users along with the staff approached the institution heads. An awareness program was held and all the signage on the premises was made accessible.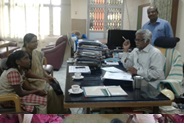 Discussion with Director of Birla Planetarium
Vidya Sagar also conducted interactive workshops for the parents of AAC users below the age of 10 years and displayed all the devices and communication software's. The importance of early communication skills, language development was stressed upon.
AAC awareness workshops was held in an inclusive school and in an NGO in rural Tamil Nadu. The students from inclusive school were taught sign language and also the importance of communication was implied through sensitization activities. Children with speech difficulties were assessed in a screening camp in the village. AAC was prescribed and the community workers, parents were given a training on implementation of AAC.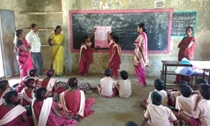 Workshop at an inclusive school in rural India
National Institute of Speech and Hearing (NISH), an autonomous body under the Department of Social Justice, Government of Kerala, India focusing on the identification, rehabilitation, education of the individuals with communication disorders celebrated AAC week with first of its kind and aimed at developing awareness among Graduate and Undergraduate students of Speech Language Pathology and faculties from other departments in the institute (such as Dept. of Early Intervention for children with hearing impairment, Dept. of Allied Health Sciences, Dept. of Neurodevelopmental Sciences and Dept. of Degree HI). The program was presided over by Dr. Samuel Mathew; Executive Director, NISH and Dr. Satheesh Kumar, Director, Centre for Assistive Technology and Innovation (CATI), NISH. This was followed by a short presentation on AAC by the Intervention team members. The program ended with an exhibition put up by students of Speech Language Pathology on the theme "No tech Communication systems".
nnnn
Submitted by Hanne Pauline Jensen
Events planned for October in Norway to raise awareness and celebrate AAC include:
–  AAC Basic Course Trøndelag 20.10,16 by Statped midt, fagavdeling sammensatte lærevansker og ervervet hjerneskade/Department of Complex Learning Difficulties and Acquired Brain Injury
–  AAC Basic Course 18.10.16, by Statped sørøst, fagavdeling ervervet hjerneskade/Department of Acquired Brain Injury
–  AAC Network Meeting, Bodø, North Norway 26.- 27. 10, professionals in Hospital, Habilitation
–  AAC Meeting for parents and dependents to people who needs AAC, 4.-5. november in Oslo (ISAAC)
nnnnn
Submitted by Meng-Ju Tsai
Dr. Meng-Ju Tsai and his undergraduate students from the Department of Speech Language Pathology and Audiology in Chung Shan Medical University will have an AAC internship to develop low-tech AAC devices for each child served through Taiwan Fund Children and Families in the 2016 fall semester. On September 30, 2016, they attended the internship orientation.
nnn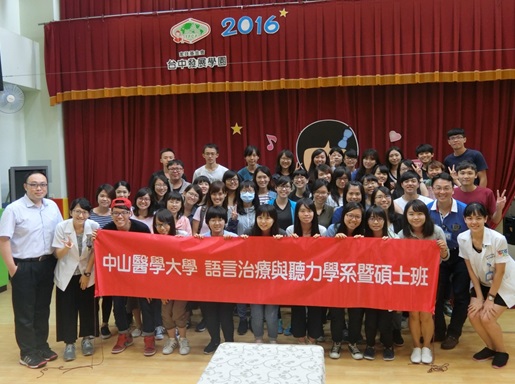 nnnnnnn
From ISAAC-UK:  Communication Matters
This year, Communication Matters is promoting a new event, "Communication Matters Cupcakes & Natter" in schools, clinics and homes during International AAC Awareness Month. Please see the PDFs below for more information and a cupcake recipe to get you started!
– CM Cupcake & Natter flyer (PDF, 239 kB)
– CM Cupcake & Natter recipe (PDF, 260 kB)
nnnnnnnnn
From ISAAC-US:  United States Society for Augmentative and Alternative Communication
Submitted by Amanda Hettenhausen
Join the Conversation: #USSAAChat … In the spirit of AAC Awareness Month, USSAAC kicked off its first ever Twitter Chat! A Twitter Chat is a live conversation, held on Twitter around a shared topic. Through the use of a unique hashtag (#USSAAChat), the conversation is kept together, allowing others to follow along and participate. The goal of our chat is to strengthen the AAC community by creating regular discussion among people who use AAC, their families, and those who work with them. Each chat has a moderator, who selects a topic and proposes 5-6 questions throughout the hour-long chat.
The first chat, held in October 2016, was moderated by AT Specialist and Podcast host Chris Bugaj @attipscast. The topic, "Increasing Cultural Awareness of #AAC," encouraged over 100 tweets among the 20 people participating.
Interested in participating in the Twitter Chat? Simply search Twitter for #USSAAChat at 7pm EST, the 2nd Thursday of every month. The moderator will usually begin with introductions, and then ask the first question, "Q1." If you want to share something, type "A1" to correspond to the question "Q1." Type your comment, and end the post with #USSAAChat. This is very important, because it is the only way to keep the post within the conversation.
It might be nice to try "lurking" the first few times, and read through others' posts, liking or retweeting any comments of interest. You might also want to use a tool like Tweetdeck to make it a little easier to follow. The questions to the TwitterChat will be posted in advance on the USSAAC website. This would allow you time to compose your answers, since the chat tends to move quickly. Following the chat, a a transcript will also be available at ussaac.org.
USSAAC has already been honoured to have Chris Bugaj, Amanda Soper and Lauren Lamore, and Jeff Stepen as #USSAAChat moderators in 2016. We are looking forward to the conversations in store for 2017!
Ready to join the conversation?
The next Twitter Chat is 2/9/17 at 7pm EST.
Join Carole Zangari (@prAACticalAAC.org) as we discuss "Increasing Awareness: Building a Culture of AAC Support
Amanda Hettenhausen, MAR, CCC-SLP, USSAAC Director of Public Information amanda@saltillo.com
nnnnn
To celebrate the AAC Awareness Month, Centro Benedetta D'Intino Onlus in Milan, Italy, held a two-day conference on Communication Access and Human Rights. During the first day, professionals from different fields, politics, culture, justice, and disabilities associations discussed barriers that limit access to human rights and self-determination, focusing on accessibility and inclusion for individuals with complex communication needs. On the second day, Barbara Collier, Executive Director of the Communication Disabilities Access (CDAC – Canada) presented CDAC's project focusing on and proposing the CDAC "Guidelines for police, legal and justice services" and how to overcome communication barriers by creating efficient communication accessible services.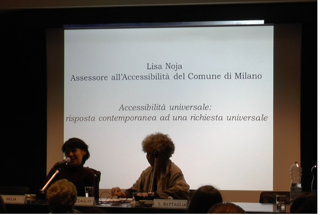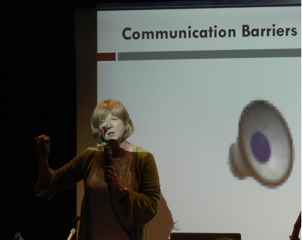 Submitted by the staff of CBD'I onlus, Milan, Italy
nnnn
Submitted by Mrs. E.A. Draffan
The Tawasol symbols team from Qatar ran a workshop in Doha on October 10th for parents, therapists and people with autism on the importance of using culturally and linguistically appropriate symbols. Demonstrations were given on how to use Tawasol symbols to support communication and build vocabulary in a fun and exciting way through Tawasol game cards. The team provided free Arabic symbol resources to the audience in Arabic and English http://tawasolsymbols.org/en/resourcedownloads/resource-downloads/. The attendees were very excited to see and receive something that they believe represented their culture and religion and were very keen to start using the Tawasol resources.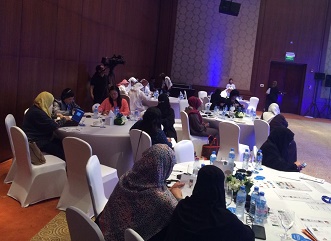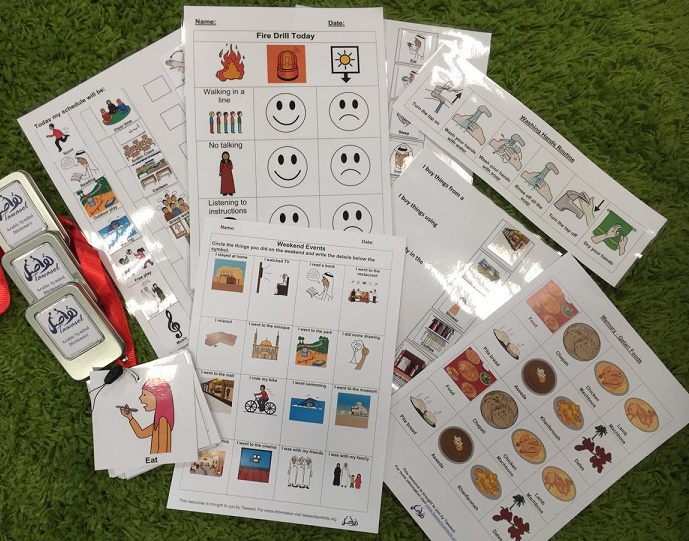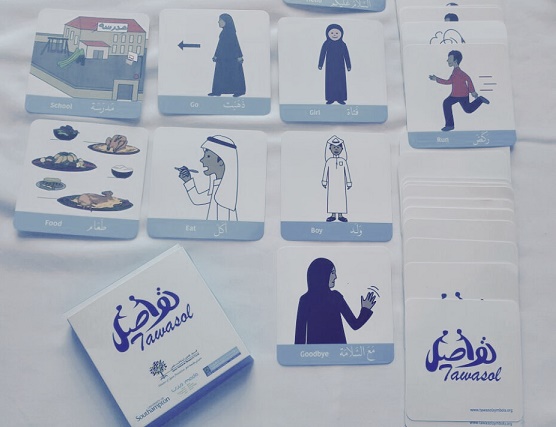 nnnnnnn
Submitted by Sarah Yong
The following activities are happening in Singapore during October:
–  Party Time!! Specialised Assistive Technology Centre at Tech Able will organize a party for its children who use AAC. Children who use various different systems will have the opportunity to communicate and have fun. Activities include food (fries and nuggets), balloon sculpting and a photo booth.
– Tour Guide Tales. This short video presentation follows Yong Seng Koon, a young man who uses a high-tech communication device as he prepares for and conducts his first AAC tour at Tech Able for a group of children of staff of the Ministry of Social and Family development.
– AAC: building connections, impacting lives, opening doors. Singapore's Tech Able and SPD websites and Facebook pages will feature a series of informational articles about how AAC impacts lives.
nnnnnnn
Submitted by Constance Ntuli 
On October 15th, TEDx Cape Town in South Africa hosted its annual event with the theme being, Hear to Listen. Robyn White from the Centre for Alternative and Augmentative Communication (CAAC) was one of the speakers. Her talk, titled "Giving a voice to the voiceless", was about how AAC can help end the silence for those who have no voice, who are not literate, and who have been victims of crime by identifying context specific vocabulary (for example, testifying in court) and using graphic symbols. The talk will be edited and shared on November 21st.  Also, an interview with Dr. Kerstin Tönsing  (in Afrikaans) is available on the CAAC website here.
The official day for AAC Awareness in South Africa was October 27th.
Constance Ntuli, disability advocate, mentor and office administrator at CAAC,  approached the media as well as local schools inviting them to have her share her personal experiences and knowledge about AAC. Here she is doing a radio interview to raise awareness of AAC.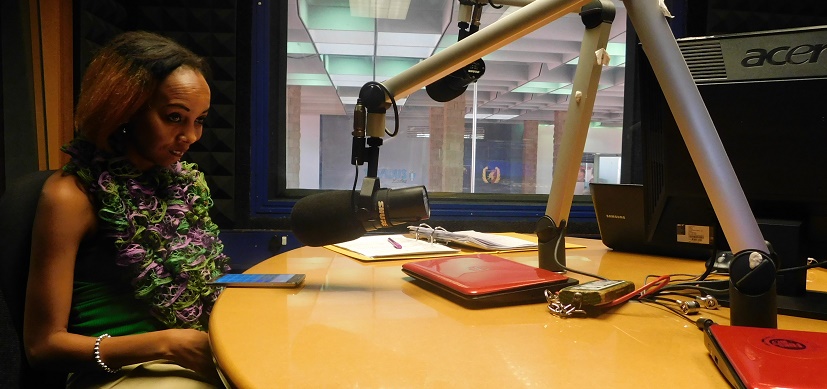 Listen to the interview here.
nnnnnnn
Thanks to Judy Bailey for event updates 
The 8th Annual 24 Hr International AAC Chat / Readathon was held on Facebook, October 14th – 15th.  This took place in two parts with a three-hour break:
– The 4-Hour Startup Chat to launch the event: 1:00-5:00 p.m. (EDT) on Friday, October 14th (followed by a 3-hour break), then
– The 24-Hour Chat: 8:00 p.m. Friday, October 14 through 8:00 p.m. (EDT) Saturday, October 15th. The chat was extended when participants expressed interest in continuing. #AACChat

nnnnnnn
Submitted by Patricia Gillule 
Candor High School in Candor, New York, celebrated International AAC Awareness Month on the last Friday in October. Students who use AAC hosted an event to enable students in grades 7-12 to communicate in alternative ways. They also made pins with slogans on them that were designed by the school's AAC users. Students and staff across the building wore the pins in support of AAC and all who deserve to be heard.
---
2015
Theme:  Bringing Us Together
 From British Columbia, Canada:
The second biennial ICEwest conference was held on October 3rd, 2015, in Burnaby, British Columbia. Nineteen adults who use AAC from across BC registered and participated in a very busy day!
The Ontario Breaking the ICE conference was held in Toronto at the same time and the two conferences were able to connect via remote video and audio.  Two presentations were shared, including a panel by attendees from both BC and ON who had previously attended ISAAC conferences, and the keynote presentation for both conferences: Putting the Social into Social Media – How to Make Connections Online & in Person given by Glenda Watson Hyatt, in Burnaby.
The Town Hall meeting took place in the afternoon, an event where only people who use AAC systems can participate. The theme for the day was "making social connections" and many people successfully contributed thoughts and experiences on the theme.
The attendees and conference committee wish to thank the following people and organizations for their invaluable support; John Montalbano, Bridges, Aroga, Tobii Dynavox, Saltillo, CAYA, March of Dimes Canada and ISAAC-Canada.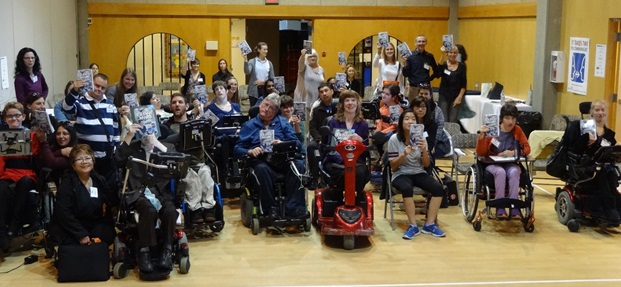 From ISAAC International:
It has been 30 years since the founding of the Augmentative and Alternative Communication (AAC) journal. To celebrate this milestone, the AAC editors, both past and present, and publisher Taylor & Francis are providing key articles free for a period of 30 days. These releases coincide with International AAC Awareness Month, celebrated each year in October. More information here.
Each October, Scope celebrates International AAC Awareness Month by encouraging people to get together to share a Silent Morning Tea. Everyone who registers to participate receives resources to download and use in planning their own Silent Morning Tea. Click here for details.
AAC Voice Inc., a non-profit organization in New South Wales, is having a Halloween Picnic to celebrate International AAC Awareness Month. Press release here and flyer here.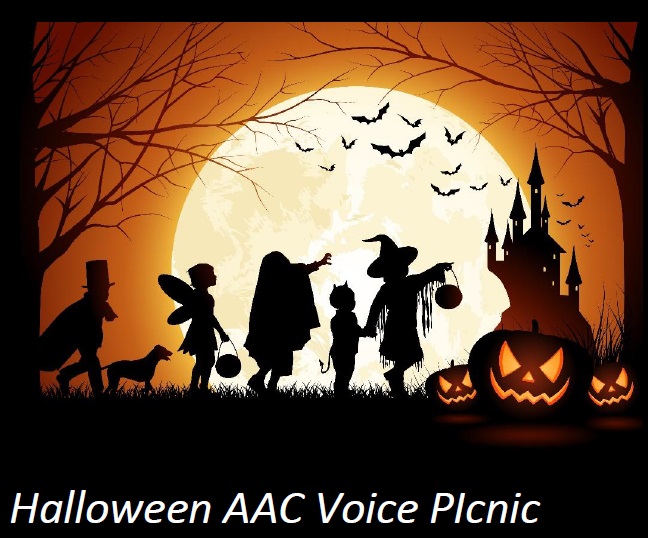 Mohawk College, in the city of Hamilton, Ontario, has launched a new journalism course on producing accessible news content for people with disabilities. Click here to watch a video of the announcement.  Submitted by Vic Valentic, ISAAC's Leadership Chair for People who use AAC.
The Technology Access Clinic (TAC), also in Hamilton, held two events this fall.  The first was a fundraising event.  A staff barbeque was held at the Chedoke Site of Hamilton Health Sciences.  The funds raised will be used to help some of our clients who use AAC to attend ISAAC Conference 2016 in Toronto. The other event was held at the General Site of Hamilton Health Sciences.  A display was set up in the front foyer of the hospital with information about TAC and communication devices, for hospital staff and visitors to try using switch, head mouse and eye gaze access.   Staff from TAC also had staff and visitors use a communication display or an iPad with Proloquo2Go to order drinks and food at the hospital café located off the front foyer.  Both activities were well received by hospital staff and visitors.
Students and professors of two faculties from University of Zagreb (Faculty of Education and Rehabilitation Sciences and Faculty of Electrical Engineering and Computing) have contributed to the International AAC Awareness Month within their regular courses. As Croatia has a tradition of drinking coffee, the event was named Silent Coffee. Students communicated with each other and with lecturers by text messages, ICT – AAC Applications, pencil and paper, chalk and board and manual signs. The poster for this event was designed by  the Faculty of Graphic Arts. More information here.
Yvette Abdel Malek reports that an AAC Awareness Activity for October 2015 was held in Ain Shams University, Psychological Counselling Center – Speech Diploma. Approximately 80 participants from many different areas in Egypt were divided into small groups for workshops using awareness material provided. For more photos from the event, please click here.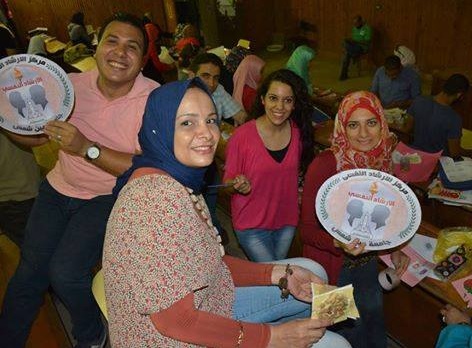 Preparation for the lectures about AAC Awareness Month for university and high school students during the last week of October:
The Indian Institute of Cerebral Palsy (IICP) is engaged in empowering persons with disabilities to be self-reliant and ensure their equal participation in society. Ankur, the disability rights group of IICP, including a bright group of young people who use AAC, was formed with the same conviction. IICP has been a regular participant in the AAC Awareness Month. This year we decided to showcase the innovative and dynamic space called the Media Lab, supported by the National Resource Centre for AAC (NRCAAC) in IICP.
Ankur members went through intensive workshops to learn about different forms of art and media. They have learned to express their imagination through text, visuals, sound, and animation. High-tech and low-tech AAC systems are used effectively to express creativity. The Media Lab successfully develops literacy, employment, and leisure skills for its members and builds effective peer relationships between people who use AAC and their speaking interpreters. In this year's in-house exhibition, six poster presentations portrayed short stories and essays. Three PowerPoint presentations featured recorded audio output and sound effects. Paintings and photographs matched the themes chosen by the authors. Another form of display was a stylized pictorial booklet. A highlight was a video by a person who uses AAC, with recorded voice-over, music and sound effects.
The Media Lab exhibition was immensely appreciated by students, trainees, staff members, families and volunteers of IICP, as well as many visitors. On October 27-28, 2015, two staff members are scheduled to conduct a workshop for mainstream and inclusive school teachers: "Core Skills for All: Access and engagement for children with special needs."
From Scotland:  A personal essay submitted by Barry Smith of Ayrshire.
Irisbond, a Spanish eye tracking device manufacturer, regularly supports and participates in local events, helping to spread the word about the latest AAC technology. One recent event is Jaime Caballero's Challenge – a swim around Ibiza. As a part of this event, three Irisbond eye tracking devices were donated to the Siempre Adelante association. To view photos of one recipient of an eye tracking device and communication software, click here. Another sporting challenge they support in October is the Desafio Mogena in Getafe (Madrid) on October 17, 2015, which raises funds for people with ALS.
To celebrate International AAC Awareness Month in October 2015, ISAAC-Taiwan has posted two videos and one people prepared by two individuals who use AAC. After posting on their website, an announcement was sent out to all students who study in the field of communication disorders in Taiwan. For more information, click here.
From ISAAC-UK, Communication Matters:
Communication Matters has been using social media to promote International AAC Awareness Month. CM released an awareness video on October 1st, donated by Charlotte Bruce and her family and friend, as well as Just Because by AAC Voice on October 5th. CM is also taking part in a Scope online Q & A session starting on October 15th.
From Diane Nelson Bryen and ACOLUG (Augmentative Communication On Line Users Group):  In honour or International AAC Awareness Month 2015, members of ACOLUG and graduate students taking the "Intergrating Assistive Technology into the Classroom" course with Dr. Bryen, were asked to submit ideas to promote the Communication Bill of Rights. The submissions have been compiled into a booklet, and are available here for download: Promoting the Communication Bill of Rights: What YOU Can Do!
From Judy Bailey: The 7th Annual 24+-Hour AAC Chat on Facebook and Twitter will kick off with a short chat on Wednesday, October 14, from 1:00-5:00 p.m. Eastern Daylight Time USA (EDT). Then the full continuous 24-Hour Chat begins on October 24 at 8:00 a.m. EDT (USA) and continues for 24 hours, ending October 25 at 8:00 a.m. EDT. To participate, join in on Facebook at International AAC Awareness Month to post, read, share information, resources, and advocacy – or post, read, share tweets on Twitter (hashtag: ?#AACChat?).
From Carole Zangari, author of the PrAACtical AAC blog:  Carole is planning some posts for AAC Awareness Month and is looking for AAC stories to share from developing areas of the world. Message Carole for more info or to share your story. Deadline: October 12, 2015.
From Jane Farrall, Amanda Hartmann, Jennifer Marden, David Niemeijer and Carole Zangari, in collaboration with AssistiveWare: An "AAC Awareness Month" survey is being conducted to get a better understanding of the state of AAC in the English-speaking world. Surveys are available for people who use AAC, family, and professionals. Deadline: October 22, 2015. We will be sharing the survey results at the end of October so that everyone in the field can benefit from the gained insights.
From Indiana University – Purdue University Fort Wayne (IPFW): A weekend camp known as IPFW AAC Poss-Abilities Theatre Camp for individuals who use AAC is typically held on the second weekend of October.  The camp, to be held on October 9-11, is run by IPFW students in the AAC course offered by the Department of Communication Sciences and Disorders. Campers take part in social activities as well as practice for a short play, performed free for the general public. More details here.
From RERC on AAC (a collaborative centre in the U.S. committed to advancing knowledge and producing innovative engineering solutions in AAC):  International AAC Awareness Month is celebrated around the world each October. We are pleased to make the following article available FREE:
Light, J., & McNaughton, D. (2012). The changing face of augmentative and alternative communication: Past, present, and future challenges. Augmentative and Alternative Communication, 28, 197-204.
2014 
Theme: Discovering Communication
AAC Awareness events are held around the world to celebrate International AAC Awareness Month. This year, ISAAC chose "Discovering Communication" as the theme, to continue the momentum from the ISAAC 2014 conference. We wanted to challenge our members to continue sharing their discoveries.
Here are some of the projects that have taken place around the world in celebration of AAC:
Australia
Silent Morning Tea, community events were held through the month of October
Canada
October 9th was designated as 2014 AAC Awareness Day
Croatia
In Croatia, the ICT-AAC Open Day was held on October 17th as a special event for professionals and parents interested in the application of innovative information and communication services for persons with complex communication needs. Two new applications developed within the ICT-AAC project were presented. – submitted by Jasmina Ivsac Pavlisa
Denmark
ISAAC Denmark has had much to celebrate in 2014, its 25th anniversary year. Workshops featuring guest speakers John Costello and Linda Burkhart were part of ISAAC Denmark's special events earlier in the year. For International AAC Awareness Month, a kindergarten class in Odense, Platanhaven, learned a song using AAC. ISAAC Denmark has posted AAC Awareness information on its website, with links to a Communication Rights poster and the Facebook group for "International AAC Awareness Month," as well as an idea for an event called "Silent Lunch break." Ideas from Finland for different kinds of celebrations are also on the ISAAC Denmark website.
ISAAC Denmark hosted two-day event in November for people who use AAC. Although this was not an October event, it was an important contribution to the year's awareness efforts. – submitted by Birgitte Brandt
Finland
"Stop for a moment, listen to me" was the theme of AAC Awareness Week in Finland, October 6 – 12, 2014. Coordinated by Tikoteekki and the Finnish Association on Intellectual and Developmental Disabilities (FAIDD), the week featured events, such as information booths in public places (market square, shopping mall), Open Houses, workshops and discussions, all in support of communication solutions. These events were located in 11 cities all over Finland. Together with Tikoteekki and FAIDD, many other associations, schools and organizations worked hard to making this happen. For more information in Finish, here. – submitted by Eija Roisko
South Africa
AAC Research Seminar  was held on October 3rd.
USA
6th Annual 24-Hour AAC Chat on Skype, Facebook and Twitter, was held on October 22, 2014.
2013 
AAC Awareness events were held around the world to celebrate International AAC Awareness Month. A few examples are as follows:
ISAAC-Francophone reports here (in English, PDF 27 MB) and here (in French, PDF 27 MB) on October 2013 AAC Awareness activities in France. In addition, please see the Caa Francophone page on Facebook.
The 24 Hour Non Speech Challenge means not talking, voluntarily, for 24 hours. During that time, only alternative means of communication, such as writing, symbols, gestures, applications, etc. can be used. By attempting this challenge, you will help the general public understand the impact of using AAC in daily life and the obstacles faced every day.
The Silent Morning Tea on October 1st, sponsored by Scope in Victoria, Australia, to raise awareness of the different ways of communicating with others.
ISAAC Canada chose Thursday, October 3rd to be AAC Awareness Day. They will be sharing events from around the country on Facebook.
A Twitter Chat using the tag #AACaware on October 14th.  Check out ISAAC Australia's blog for more information.
24 Hour AAC Chat / Read-a-Thon on Facebook, Twitter, Blogs, Skype, Anywhere!  On October 23rd, starting at 8:00 a.m. ET (USA) through 8:00 a.m. ET (USA) October 24th. Details will be posted at International AAC Month on Facebook. For more information, contact Judy Bailey judybailey(at)aol.com.
Also on October 24th, a 12-hour chat on Facebook, Skype and Twitter has been planned for French-speaking people. Contact Isabelle Guillot for more information.
Bronwyn Hemsley, ISAAC President-elect, has offered to support anyone interested in learning more about how to use Twitter to raise awareness about AAC. Simply join Twitter and follow Bronwyn in Twitter @bronwynhemsley,  follow ISAAC Australia @ISAACaus to get help, or email Bronwyn  bronwyn.hemsley(at)newcastle.edu.au. Bronwyn requests that all people from any ISAAC Chapter in Twitter add the tag #AACaware to any tweet relating to AAC (tags are usually #AAC #AugComm).
ISAAC/AAIDD Webinars are scheduled for October 16th & 21st — Social Media and People with Disabilities: Building Online Networks to Enhance Community Engagement and Create a Level Playing Field. Click here for more information.
A "Quiet Coffee" event on October 29th in celebration of International AAC Awareness Month, hosted by the Augmentative Communication Service at Thames Valley Children's Centre in London, Canada. Communication boards and small devices will be available for people to use in order to request coffee and snacks, and to chat with each other. Information about AAC and ISAAC will be on display. For more information, contact Jan Kraft at TVCC.
An AAC Symposium on November 2nd at the Nan Shan Education & Training Center, Taichung.
On October 31st, Dr. Pat Mirenda from Canada's University of British Columbia will make a presentation at the Chung Shan Medical University in Taichung: "A Picture is Worth 1,000 Words: Visual Supports for Individuals with Autism Spectrum Disorder."
A "flash mob" has been planned for Mohawk College in Hamilton, Canada, in celebration of International AAC Awareness Month. This will happen at a later date, so that works better with the students' schedules.  Students from Mohawk will be helping to organize the event.  A person who uses AAC in Hamilton has written a song, "I've Got a Lot to Say," which has been professionally recorded (ISAAC International helped with the production costs). The song will be programmed onto a number of AAC devices used by clients of the Technology Access Clinic at McMaster Children's Hospital. This is what will be used for the flash mob. The event will be videotaped, uploaded to YouTube, and posted on the ISAAC website. Following the flash mob, Mohawk College students will have an opportunity to interact with people who use AAC at the event.  Local vendors of AAC devices and products will also be on hand. For more information, contact Shelley Deegan deegan(at)hhsc.ca.
2012
Theme: High Performance Communication – Best Life Experience
Read-a-Thon, 24-hour AAC Chat Flyer (PDF, 293 kB)
Talk, Walk, and Roll Relay – October 29, 2012, Orlando, Florida
AAC Month Update 2012 (PPT, 6675 kB); includes a summary of AAC Awareness Month Events 2008 – 2011.
2011
 Theme: The Power of Communication

Power of Communication Relays Flyer (PDF, 385 kB)
Walk for a Voice, CAAC, University of Pretoria, South Africa – October 21, 2011
2010
Theme: Many Cultures, One Dream: Communication without Barriers

Writing and Video Collection 2010, Summary (PDF, 219 kB)
Story Collection 2010, Submissions (PDF, 2295 kB)
AAC Awareness Campaign 2010 (Video, 8:26 min); describes the Online Story Collection and AAC events taking place in various countries, including festivals, inclusive singing and more.
2009
Theme: Many Methods, One Goal: To Communicate
Video Collection 2009 (PDF, 276 kB)
Story Collection 2009, Summary (PDF, 486 kB)
Story Collection 2009, Submissions (PDF, 7264 kB)
2008
Theme: Many Stories, One Voice
Many Stories, One Voice AAC Story Collection 2008 (PDF, 22 MB) (Note: May take 30 seconds or longer to load once clicked)
AAC Book Club 2008 (PPT, 3707 kB)
Augmentative/Alternative Communication (AAC) Awareness Campaign 2008, Al Noor Training Centre, Dubai UAE (Video, 3:23 min); a primer on communication aids produced by Al Noor Training Centre, Dubai, UAE.

print