International AAC Awareness Month 2021

The current pandemic fueled by COVID-19 has created a greater reliance on technology for everyone, and it brought on new ways to work. Communicating with the assistance of technology for many social interactions has changed the way people value alternative forms of communication. Using a combination of video, text chat, and audio voice calls simultaneously in one conversation has become commonplace in today's society. Quickly making accommodations for people's available mode of communication often occurs without much interruption of the conversation. Many people now use apps and non-spontaneous communication to interact with businesses for basic daily tasks such as ordering food and shopping for goods.
To wrap up this extraordinary AAC Awareness Month, here is a thank-you message from ISAAC President, Juan Bornman of South Africa:
nnn

nnn
Scroll down for a sampling of the activities, resources, and events held in celebration of International AAC Awareness Month in October 2021. Please keep sending us your news throughout November, and we'll keep posting your submissions. Contact us by email at feedback@isaac-online.org 
Thank you!
ISAAC International
Bruce Baker AAC Globalization Initiative
In celebration of International AAC Awareness Month, PRC-Saltillo and ISAAC International are thrilled to jointly announce the establishment of the Bruce Baker AAC Globalization Initiative. Submissions for the inaugural award are due March 14, 2022 and will be announced at ISAAC Cancún.

nnn
"This Is Not About Me":
A New Film about Autism 
A groundbreaking new film has been released in celebration of International AAC Awareness Month.
This Is Not About Me tells the story of Jordyn Zimmerman, a young woman with non-speaking autism who now uses AAC to communicate. As a child, Jordyn dreamt of becoming a teacher. She started out eager to learn at school, but she was soon separated from the other children. Unable to communicate, teachers thought she was also unable to understand or learn. Year after year her behaviour worsened. She was restrained and placed in seclusion. Jordyn found herself caught in a system that unintentionally turned her life into a living nightmare. Finally, at the age of 18, with the help of educators who saw her differently, she managed to turn her fate and flourish.
Please share the film trailer to promote AAC awareness during the month of October (and beyond!).
The full 57-minute film can be rented here for $9.99 USD ($11.99 CAN). Watch this story of one autistic woman who fought hard to be recognized and trusted. "This Is Not About Me" is captioned in English and Spanish.
All proceeds from the film go to the Autistic Self-Advocacy Network (ASAN), CommunicationFIRST, and Thinking Person's Guide to Autism to support them in their missions.

ISAAC Webinars for International AAC Awareness Month
See our line-up of ISAAC webinars scheduled for October 2021. You will find registration information at the link.
Awareness Month Deals
nnn
EyeTech Digital Systems Giveaway
nnn
Watch for these sales….
Several AAC and AT app developers are offering sales during AAC Awareness Month. Thank you to Lauren S. Enders, MA, CCC – SLP for providing this infographic, with the following description: "In celebration of AAC Awareness Month October 2021, a number of app developers are once again offering deep discounts! Date ranges and sale details vary, so check the graphic carefully! I have included information from all developers who provided me with sale details."
VPP = additional discounts apply when 20 or more copies
are purchased via Apple's Volume Purchase Program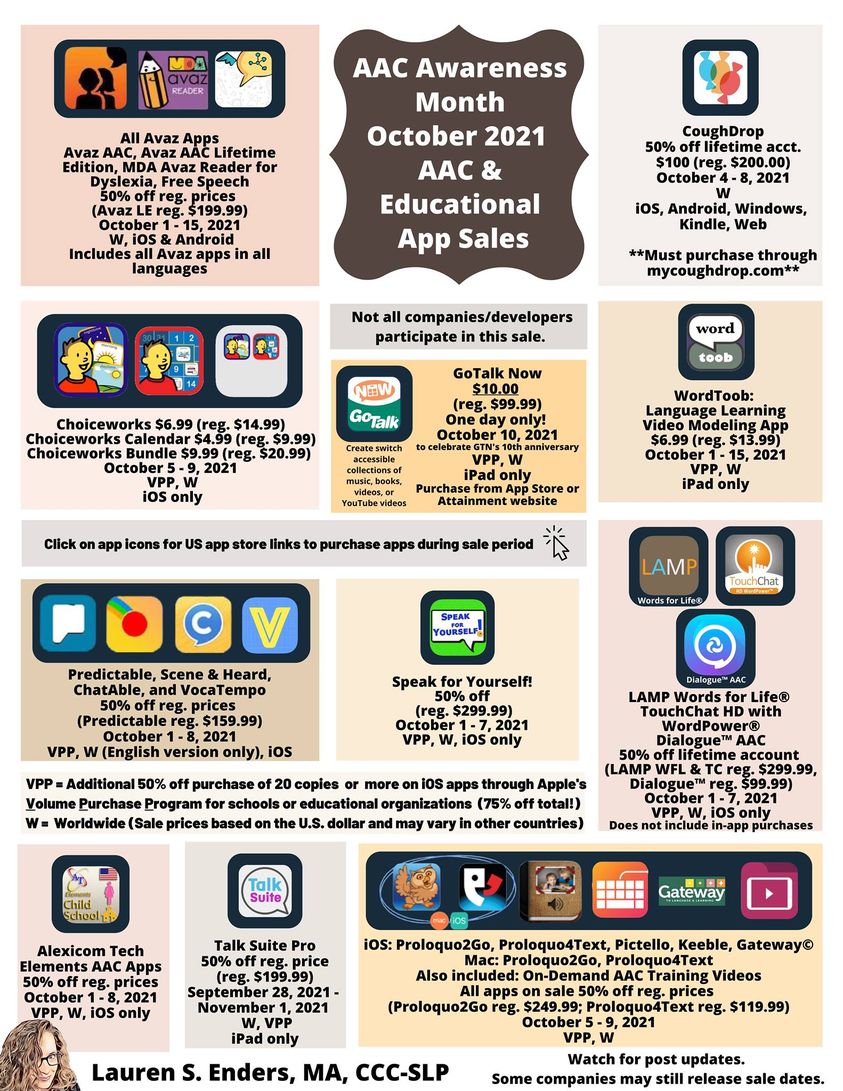 nnn
ISAAC-Brazil
ISAAC-Brazil is preparing a super event for AAC Awareness Month! First National Meeting of Alternative Communication. Book the date: October 29 – 30, 2021. More information here.
ISAAC-Denmark
On October 25th, ISAAC (in collaboration with the National Association for Autism) invites you to a one-day seminar. In Denmark, having no COVID-19 restrictions, this will be an in-person meeting on the subject of AAC and autism. Listen to presentations from Simon Felskov, (member of the main board of the National Association Autism) and Marianne Rosenkvist (sociologist with professional experience in evaluating social efforts). Joanne Cafiero will also be with us virtually, but the rest of the presentations will be taking place in real-life. Register here
– submitted by Ida Mundt and Margit Grønkjær
ISAAC-Israel
ISAAC Israel Bringing AAC To the World Wide Web
ISAAC-Israel has consulted with the World Wide Web Consortium on an exciting new standard that promises to bring AAC to the World Wide Web. Dr. Lionel Wolberger, co-chairman of a World Wide Web standards committee (called the W3C personalization task force), reached out to ISAAC-Israel last week. Dr. Wolberger is part of the Accessible Platform Architectures Working Group within the Web Accessibility Initiative of the World Wide Web Consortium. This is the community of engineers that creates the standards that power every web page you see on the internet, including the WCAG standard that currently specifies how screen readers work with web pages, and which videos require closed captioning. Personalization is a new standard extending accessibility to the symbols space. Web page authors will be able to use this method to specify which symbol would best relate to any given word on a web page. The specification is now ready for candidate review status. Dr. Wolberger and Isaac-Israel's Dr. Adi Neeman consulted on details of how best to implement this concept. We are excited that this specification will reach the public in the future, enabling people who rely on symbols to access more web content more easily. As with curb cuts, and captions, this is the kind of accessibility initiative that, in the end, will help all of us use the internet more easily.
– submitted by Lionel Wolberger
ISAAC-Singapore
After a great ISAAC Connect 2021 Film Festival, ISAAC-Singapore launched an October AAC Awareness Month Film Festival 2021, including a film workshop! Cam on Wheels looks forward to all film stories!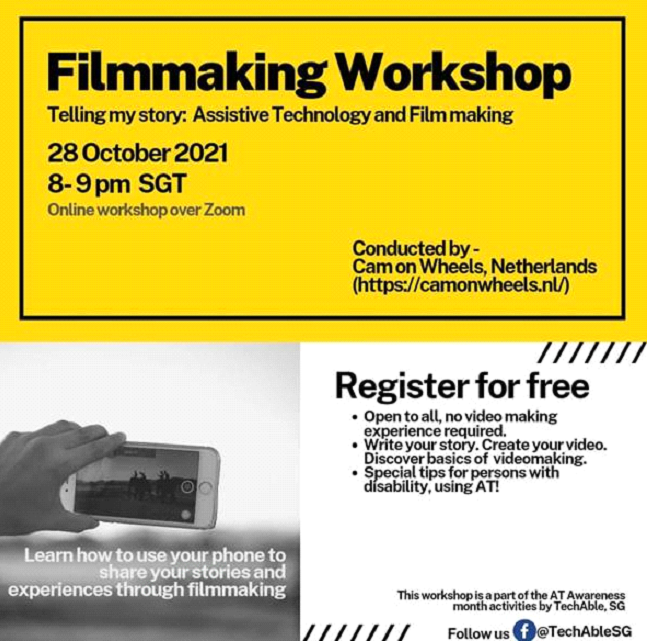 ISAAC-Taiwan
As a follow-up to AAC Awareness Month, ISAAC-Taiwan invited Sarah Yong and her team members from ISAAC Singapore to present an online seminar:
AAC Also Can! – Experiences from Singapore
Sunday, November 28, 2021  8:40~12:10
Click here for details and registration information
This session is hosted by the Department of Speech Language Pathology and Audiology at Chung Shan Medical University, ISAAC-Taiwan, and Maria Social Welfare Foundation.
ISAAC-Taiwan and Chung Shan Medical University cooperatively disseminated several short versions of "AAC Introduction" and "Myths for Dummies" posted on Facebook (@CSMUSLPA) beginning in October 2021. These were prepared by undergraduate and graduate students and mentored by Professor Meng-Ju Tsai from the Department of Speech-Language Pathology and Audiology at Chung Shan Medical University in Taiwan.
These 23 posts reached over 2,300 people and were shared over 100 times.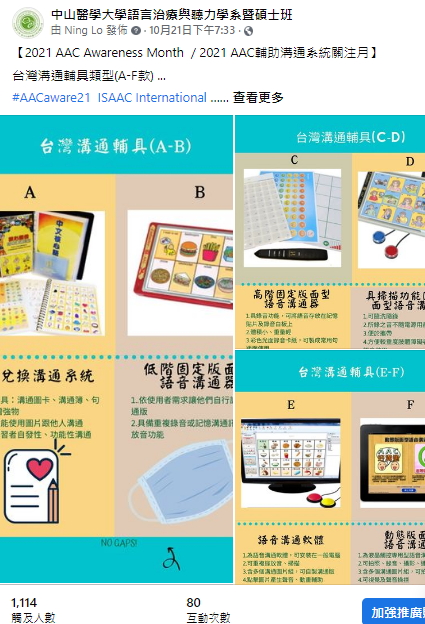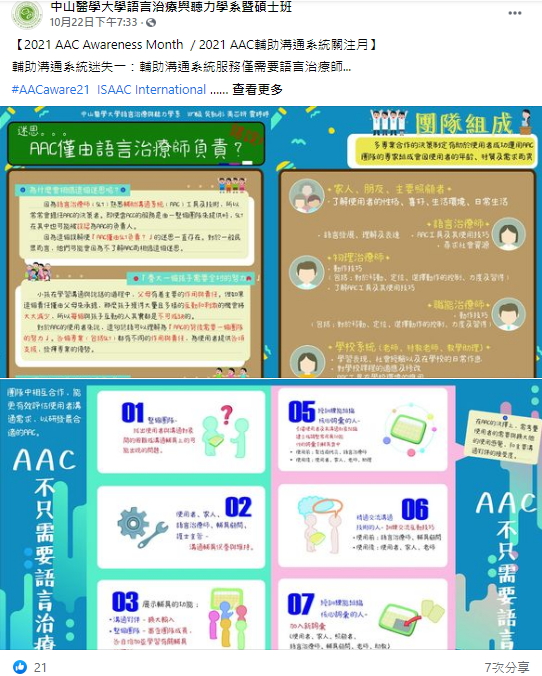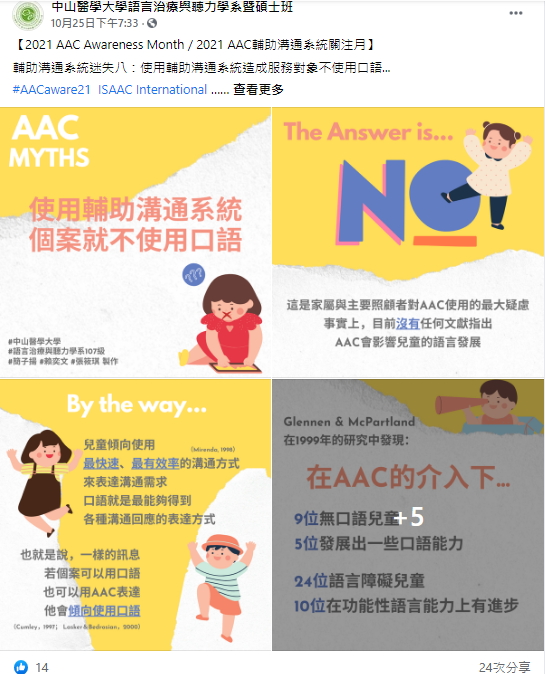 The Department of Speech-Language Pathology and Audiology at Chung Shan Medical University was established in 1994 and ISAAC-TAIWAN was established in 2013 in Taiwan to continually promote AAC services nationally and internationally.
ISAAC-US
USSAAC held a virtual auction as part of International AAC Month in October to fund their AAC Speaker Connection.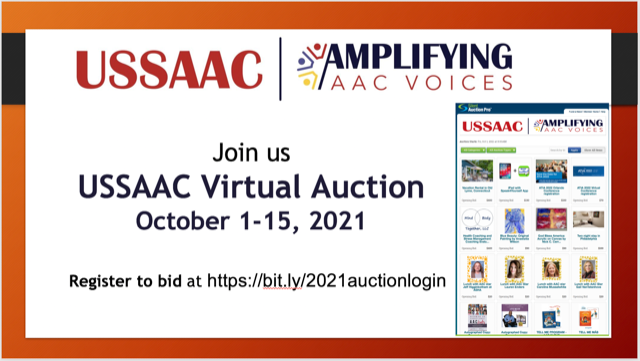 At Pines Lake Elementary School in Wayne, NJ, all seven general education/integrated 4th and 5th grades will participate in presentations about AAC, including  showing them how to make an e-tran and allowing everyone an opportunity to try some robust communication apps on iPads.  They will also watch a Chris Klein video on YouTube.
These classes will also be reviewing the ASHA Communication Bill of Rights and discussing them in their individual classroom with their teachers. The focus is to be on how these rights are accommodated within our school community. We also have a brochure to share: What is AAC and When is it Appropriate?
– submitted by Catherine Fredericks, MA, CCC-SLP/L, ATP, CAS 
South Africa
AAC Awareness Month 31-Day Challenge
This project was initiated by final year Masters in AAC students at the Centre for AAC, University of Pretoria, under the supervision of Prof. Juan Bornman: Jess Bartram, Pauline Prinsloo, Jodi Zimmerman, Liné Kruger, Gonda Olivier, and Malikah Parker. They have asked 31 people (many South Africans as well as a few international AAC people) to make 1- to 2-minute videos about their work to create awareness on a variety of AAC-relevant topics.  A new video will be launched every day during the month of October on the Centre for Augmentative and Alternative Communication Facebook Page. The students have made some videos and have also asked former students, teachers and clinicians, parents of children who use AAC, and persons who use AAC to make videos for this challenge. Other students around the world are invited to join in!
– submitted by Juan Bornman
Postscript: The AAC Awareness Campaign with its 31 one-minute videos ended on a high note when Edit Micro volunteered to sponsor the six final year Master's students in AAC who initiated the campaign with ISAAC membership for a year! Thank you Edit Micro for being a part of this success story and for supporting the students' individual careers as they continue to practice in the field of AAC. We salute you for giving back so generously!
–  Source: Facebook, 11-16-2021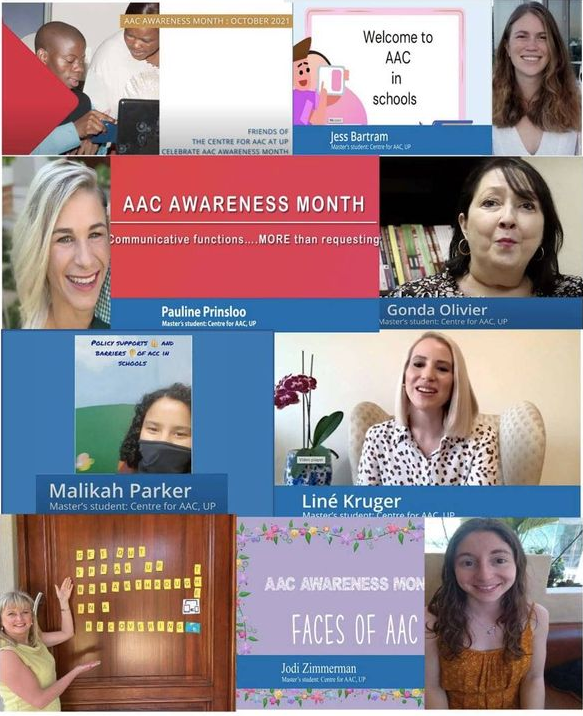 Taiwan
Fu-Hua Chuang, an AAC user from Taiwan, submitted his story for AAC Awareness Month. Please read and enjoy!

print