International AAC Awareness Month 2020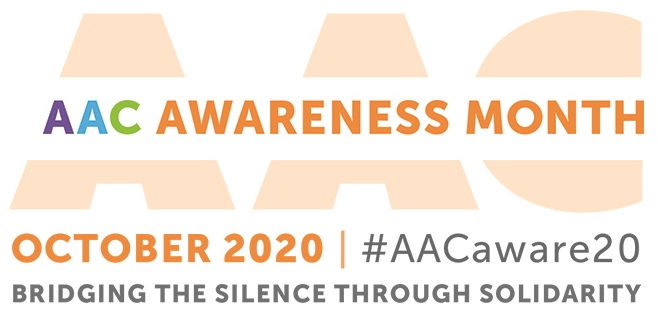 The theme of this year's International AAC Awareness Month, October 2020, is Bridging the Silence through Solidarity.
ISAAC members and supporters plan events and activities during October that bring to life the visions of people who use AAC.
Let us know about your activities during AAC Awareness Month by sending an email to AACaware20(at)isaac-online.org
Here's how you can join in:
Find an ISAAC Chapter near you and ask how you can participate
Use the AAC Awareness Month logo in your social media posts. We will send you a copy if you message us at the above email address
2020 Events
ISAAC International
The ISAAC Research Committee is hosting a number of events in October to mark International AAC Awareness Month. The first was a 30-minute webinar, presented on October 7th, on AAC and Decision Making by Janice Murray PhD, FRCSLT, Professor of Communication Disability (AAC), Manchester Metropolitan University.
https://www.callscotland.org.uk/professional-learning/webinars/WEB177/ 
Australia
Assistive Technology Australia is celebrating International AAC Awareness Month 2020 in October.
We will be posting on our Facebook AAC-related topics on the first three Mondays, followed by a Zoom open house on October 26th from 11am to 12.30pm (Sydney time). Our subject experts, Caytlin Weir (ATM & AAC user) and Aparna Baskshi (OT) will review the questions we received over the three weeks and share their thoughts.
Assistive Technology Australia hopes to increase AAC awareness and add value to people's choice and decision making. Like and share our Facebook page:  www.facebook.com/ILCNSW​.​
Chile
Hello from Chile! We want to do a free Zoom Webinar on October 1st to talk about AAC and motivate the community to learn about AAC and to learn how to teach AAC. We will share successful experiences in CAA and quick communication boards to print and let people know that those who require it, can start now.
– submitted by Claudia Marimon Rigollet, Buenas Practicas de CAA, ISAAC Member from Chile
Egypt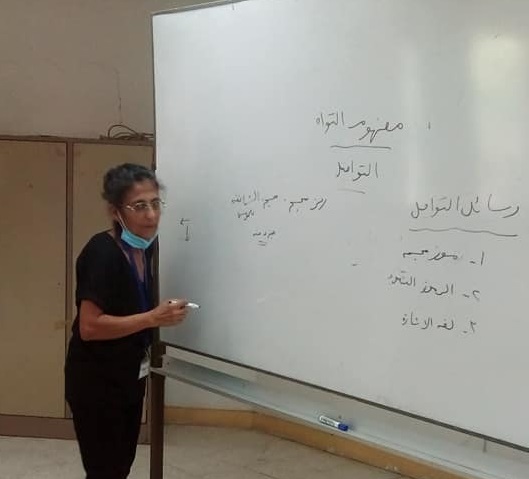 As a starting event for the AAC Awareness Month in October, I would like to share with my colleagues and ISAAC members, and people who use AAC around the world, these photos from the first day of the Communication Disorders Course at the Training Center of the Right to Live Association, Cairo, Egypt.
With all precautionary measures in place, we explained the concept of alternative communication and hologram symbols as emoji communication, and the next day continued with a workshop in tool manufacture.
Please enjoy these videos compiled during the Communication Disorders Course – courtesy of Yvette Abdel Malek.
– submitted by Yvette Abdel Malek
ISAAC Español
Malaysia
Your Communication Matters Speech & Language Therapy will be promoting AAC awareness in Malaysia via 2 main activities:
1. An interview on AAC with BFM: The Business Station, Malaysia's only independent radio station, will be aired on the October 21st, 2020 (Wednesday) at 4.05pm (GMT+8). It is entitled: Health & Living: Using Aids for Communication Challenges. This interview will also be available as a podcast on https://www.bfm.my/podcast
2. A webinar entitled Symbol-based AAC: Exploring TalkXpress, GoTalks and Proloquo2go will be conducted on October 29th, 2020 (Thursday) from 10am – 12 pm (GMT+8). This webinar targets Malaysian/Singaporean parents and professionals who work with individuals with complex communication needs and will feature local case studies. For more info, please visit: https://ycmspeechandlanguagetherapy.business.site/
– submitted by Deborah Yong, SLP, AAC Specialist
Si
ngapore

SPD's Specialised Assistive Technology Centre (SATC) team has mapped out a month-long journey to create more awareness of AAC:
.
Week 1: A video introduction to AAC and how it helped two individuals communicate better with their family and friends.
Week 2: A compilation of videos from our "Bonding-Moments Competition" featuring our clients using AAC to interact and bond with their friends and family.
Week 3: Get to know Team SATC through a fun video of an interview by Elfred, our young and fun-loving AAC user.
Week 4: Catch our 2-part webinar, streamed 'live' over Facebook on Friday, October 30th, on ways to communicate with persons who use AAC. There will be Q&A sessions where a panel consisting AAC professionals, a person who uses AAC, and a caregiver will answer questions about AAC, its use in different scenarios and assistive technology in general. Details soon!

nnn
South Africa
A project is being conducted at the Centre for AAC, University of Pretoria, in collaboration with UNICEF:  This October we celebrate Augmentative and Alternative Communication Awareness Month and the CAAC, Future Africa (UP), and UNICEF are focusing on the development of health education materials for persons with severe communication disabilities. This project will involve persons with severe communication disabilities, caregivers, health care professionals and postgraduate students in the development and dissemination of materials for use when dealing with persons with communication disabilities. The new materials will be made available during our training webinars and on our website by the end of November. For more information, click here. Some other CAAC initiatives can be found here.
– submitted by Beata Batorowicz on behalf of the ISAAC Research Committee
nnn
UK
The Communication Matters Sessions: A Series of Twilight Presentations for AAC Awareness Month

Communication Matters will be hosting a series of virtual events throughout October (for AAC Awareness Month) to help raise awareness of AAC and vital funds for the charity. Our main source of funds comes from running events and the pandemic has had a huge impact on our income and our members this year.
"The CM Sessions" will have both academic and social elements and will be held every Thursday afternoon in October: 1st, 8th, 15th, 22nd and 29th from 3.30 PM UK-time. However, all the resources will be available online for 30 days to watch at your convenience. There will be presentations from a range of speakers associated with AAC, including a keynote speech from the ISAAC President 2018-2020, Meredith Allan.
There will also be innovative presentations from Gail M. Van Tatenhove (Speech-Language Pathologist in Florida), Gloria Soto (Professor in Special Education in San Francisco), Catia Crivelenti de Figueiredo Walter (Associate Professor in Rio de Janeiro) and several organizations in the UK, including ATtherapy (an independent speech and language therapy service), the Seashell Trust (a national charity for children and young adults with communication needs), and some personal stories from members who use AAC. Last, but not least, there will be several short presentations from AAC supplier companies about their latest products.
To find out more about these virtual events, confirmed speakers and how to register, please visit  https://communicationmatters.org.uk/what-we-do/the-cm-sessions or contact the Communication Matters Office at admin@communicationmatters.org.uk.
It is open to everyone, so please share with anyone else who you think might be interested.
– submitted by Emily Campbell
US
The United States Society for Augmentative and Alternative Communication (USSAAC) is pleased to be celebrating AAC Awareness Month.  In October, we have several activities happening. First, USSAAC President Yoo Sun Chung, Ph.D. has created an AAC Awareness Video. Secondly, On Wednesday, October 14th from 7pm-8pm, Stephanie Faso, MA will be our speaker for our AAC Awareness Month webinar.  The webinar is entitled, "A Discussion of Empowering Autonomy and Self in Individuals with AAC Needs." To register for this webinar, please go to the following link: https://attendee.gotowebinar.com/register/7224900111858250000. Next, we invite people who use AAC, their families, and other USSAAC members to submit videos stating their favorite part of being a part of USSAAC. Videos can be sent to membership@ussaac.org.  We have created two USSAAC virtual backgrounds, which will be posted on our Awareness webpage. Finally, USSAAC Vice-President for People Who Use AAC and Their Families, Tracy Rackensperger, Ph.D. talks about AAC awareness in the age of COVID-19 in the SpeakUp! blog.
– submitted by Yoosun Chung

print