Communication Access
About Communication Access
People who use AAC have the human right to access, communicate and participate when using all businesses, organizations and events. This includes attending and participating at conferences, meetings and online.
NAACA
The North American Alliance for Communication Access (NAACA) is a collaborative working group comprised of members from Communication Disabilities Access Canada (CDAC), ISAAC Canada, Mexico and The United States ISAAC Chapter (USSAAC).
With funds from ISAAC, NAACA was established to help make the ISAAC Conference Cancún experience accessible for all participants who use AAC. 
We hope that the information shared here will help to make current and future ISAAC conferences, meetings and events accessible for people who use AAC.
Communication Access at Conference Cancún
Communication access at ISAAC conferences and events means that people who use AAC have the supports and accommodations they may need to:
Register and submit proposals for sessions.
Navigate conference/event information (digital and/or hard copy).
Present and participate at in-person sessions, poster sessions, meetings, and online and social events.
Socialize and communicate with other conference delegates.
Access local businesses and services in the vicinity of the conference/event.
Provide ISAAC with feedback on their accessibility experiences.
Accessibility Legislation
Countries have different laws about accessibility. As Conference Cancún is located in Mexico the following accessibility legislation applies: 
Inclusion of Persons with Disabilities (2011).
United Nations Convention on the Rights of Persons with Disabilities (CRPD) (2006) .
Ley General de Inclusión de las Personas con discapacidad (México).
Ley General de Turismo en México (Artículo 18, 19 y 44).
Permission
The information available here has been developed by NAACA, based on Communication Disabilities Access Canada resources.   
Disclaimer
NAACA resources are not intended to be legal advice. We recommend that you consult a lawyer if you need legal advice on a specific matter.


Follow these links for more information: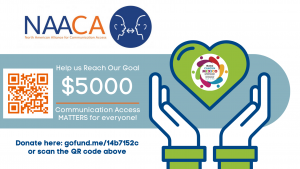 Support Communication Access Training at Conference Cancún!
With your support, NAACA will provide free communication access training to service providers and businesses related to the ISAAC Cancun Conference .
Help break down barriers by donating today. Together, we can improve communication access and create a more inclusive world. 

print