Upcoming Events
Would you like to see your conference listed here? Please send us a request by email. 
In addition to the events below, information on upcoming ISAAC International webinars can be found here
October 28 – November 11, 2020
Closing The Gap 2020 Virtual Conference
Closing the Gap has generously offered free admission to the virtual exhibit hall for Town Hall participants! Also, you may attend the full virtual conference for the discounted rate of $295.00. Click here for full details and to register for the virtual exhibit hall or the virtual conference.
3rd International Conference on Augmentative and Alternative Communication
Augmentative and Alternative Communication – AAC2020. The conference is being organized by "ASSIST – Assistive Technologies" Foundation with the support of UNICEF-Bulgaria, the Republic of Bulgaria Ministry of Education and Science, and ISAAC.
Click here for program and registration details.
Communication Disability and Participation Research Webinars
ISAAC 2020, 19th Biennial Conference of ISAAC, in Cancún, México
Information here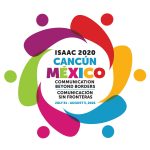 print