AAC and Students with ASD: California's Efforts to Close the Research to Practice Gap
March 23, 2022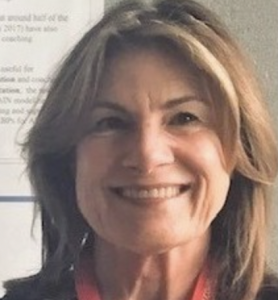 Presented by: Ann England, M.S., CCC-SLP
Moderated by: Betsy Caporale
Seminar description:
Based upon the 2020 systematic review conducted by the National Clearinghouse on Autism Evidence and Practice (NCAEP), AAC is a focused intervention that meets the evidence-based practice criteria for individuals with autism with 47 single case design studies. This webinar will describe the work in California to scale the implementation of the identified 28 evidence-based practices for autism that includes AAC. The free online e-learning modules, AFIRM, developed to translate the research-based information into practical procedures, will be described and include a walkthrough of the new AAC module. Although the AFIRM module can be a helpful tool to support the implementation of AAC, implementation science informs us that additional steps are needed for most practitioners. That is, professional development, coaching, and organizational support are all factors that are most likely necessary for closing the link of the research to practice gap
Participants will learn to:
Define CAPTAIN (California

A

utism Professional Training And Information

N

etwork) and describe its role in California
Explain the importance of the 2020 report: Evidence-based Practices for Children, Youth, and Young Adults with Autism by the National Clearinghouse on Autism Evidence and Practice, University of North Carolina at Chapel Hill, Frank Porter Graham Child Development Institute
Describe the new AAC online e-learning Autism Focused Intervention Resources and Modules (AFIRM)
Presenter bio:
Ann England is the Project Coordinator of the SELPA Content Lead-ASD grant and the Co-Coordinator of the California Autism Professional Training and Information Network (CAPTAIN). The five-year grant is part of the California Department of Education's Statewide System of Support to provide educators training, coaching and resources in evidence-based practices for autistic students. The outcome of the grant work is to provide LEAs technical assistance and professional leadership to improve academic and social outcomes, increase successful inclusive education opportunities, and improve post-secondary success for students with ASD and other developmental disabilities.
Presentation Slides

print