Pathways to Leadership: Seminar 2
Pathways to Leadership
Online Mini-Series
October 19, 2020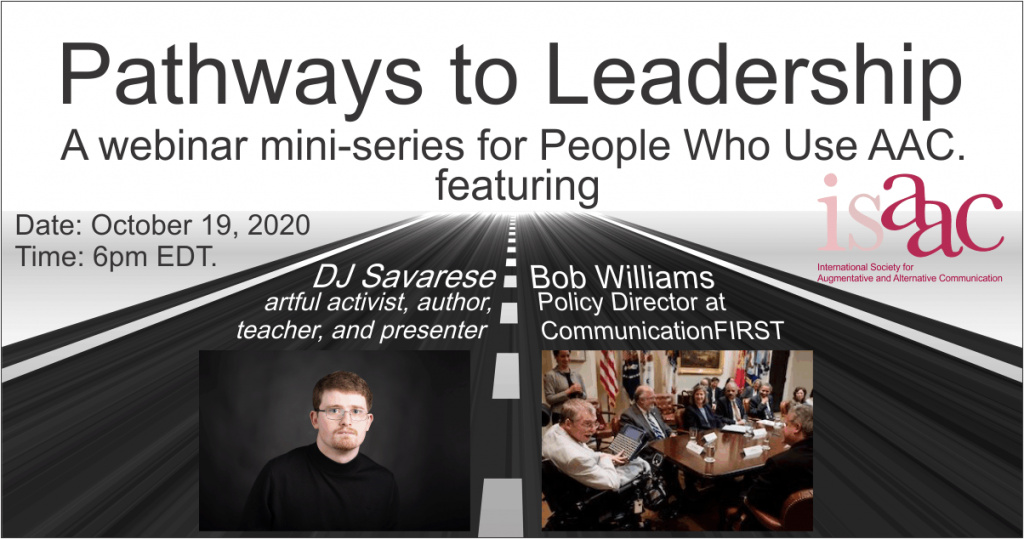 DJ Savarese photo courtesy of Rosen-Jones Photography
Presented by leaders who use AAC, this online mini-series will share the path that each took to become a leader in their respective countries or internationally. Each presenter will share their unique path in the following terms:
1. Goals, visions, or even dreams they set for themselves related to becoming a leader
2. Resources they needed (e.g., skill, education, time)
3. People who supported them either as mentors, facilitators, cheerleaders
4. Opportunities they had to learn or exercise leadership skills
5. Challenges faced and how they dealt with them
6. What they are currently doing as a leader
This mini-series will be of interest to young adults and adults who use AAC and who are interested in becoming a leader locally, state- or country-wide, or internationally.
During each Pathways to Leadership seminar you will meet two established leaders who use AAC. Following each leader's five-minute description of their own path to leadership, you will have time to pose questions to the leader about their unique path to becoming a leader.
Participants will then be asked to envision their own personal path to becoming a leader, including:
● personal leadership goals
● resources/skills they might need
● people who they might need to support them
● opportunities they might need to exercise their developing leadership, and
● potential challenges they might face and how you plan to handle them.
Depending on the time remaining, each participant will share their envisioned plan with others and will offer and receive feedback from other participants and the presenters.
Agenda for the October 19th seminar:
1. Welcome and expected outcomes of the Leadership Mini Series (Kevin Williams – 5 minutes)
2. Introduction of Bob Williams and DJ Savarese (Kevin will read short bios of each (5 minutes).
3. Presentation by Bob Williams (5 – 7 minutes).
4. Questions (and responses) addressed by participants to Bob Williams (15 minutes)
5. Presentation by DJ Savarese (5 – 7 minutes)
6. Questions (and responses) addressed by participants to DJ Savarese (15 minutes)
7. Closing: Challenge to participants to envision a leadership role and connecting with one of the presenters to flesh out what is needed to complete their vision.

print