AAC Awareness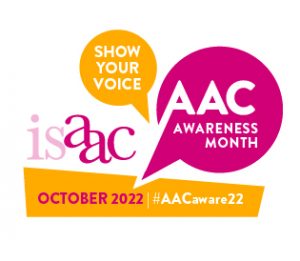 Welcome to our global AAC community!
ISAAC celebrates AAC Awareness Month every year during October. In October 2022, the International AAC Awareness Month theme is, "Show your voice." 
Visit International AAC Awareness Month 2022 to find out what's happening this month around the world. 
We invite you to plan or attend an AAC awareness event in your community, or participate in online events.
Thank you for using the hashtag #AACaware22 on Twitter and Facebook!
Background
International AAC Awareness Month was established by ISAAC's LEAD Project Committee in October 2007. Thirteen countries participated in the first Awareness Month and events have been increasing in number and scope ever since.
Today, International AAC Awareness Month is celebrated around the world each October. The goal is to raise awareness of augmentative and alternative communication (AAC) and to inform the public about the many different ways in which people communicate using communication devices.

print