PWUAAC Online Chats
nnn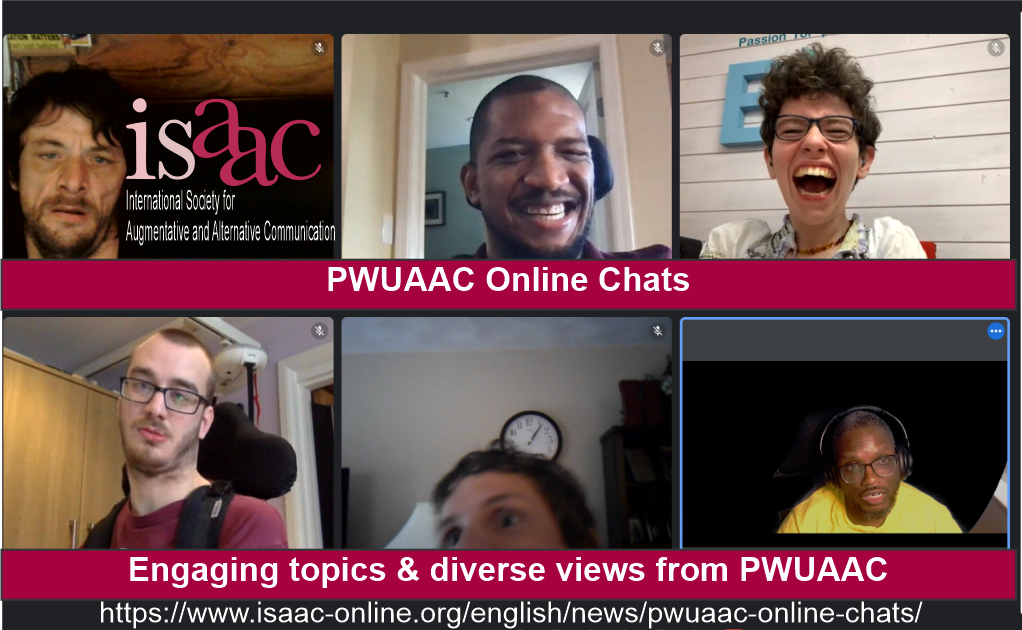 Date: October 18th, 2021
Time: 12:00 p.m. ET / 5:00 p.m. BST
Host:  Jamie Preece
To join the chat, click here
Topics:
Topic 1:  What do you like most about fall or Halloween?
Topic 2: October is one of the rare months where many of the most popular professional sports are going on at the same time. What is your favorite team, and why are you a fan?
Google Meet joining info:
Video call link: meet.google.com/ktq-emgm-yoo 

Or dial: (CA) +1 587-977-3329 PIN: 868 253 476#
Note: Telephone numbers are provided by Google – not by ISAAC. As a result, not every country in the world has its own local dial-in number. 
The objective of ISAAC Chats in 2021 is to increase participation from around the world through localization: by holding more chats with regional hosts. Many people who use AAC have regimented time schedules due to many factors. The hosts also have restricted time schedules. Over the past year, we have developed a good format of introduction of attendees and two topics. We have been recruiting other people who use AAC to host and lead a chat in their local region at a time that's more convenient for them. Yet any PWUAAC from all over the world can join any chat session if their schedule permits.
You can join the meeting using any Google account you may already have. Instructions for how to set up a Google account (if you do not already have one) are available here. 
To reduce feedback during the call, headphones are recommended. They aren't required, but it's just easier for everyone. Another recommendation is that if you are physically able to mute your microphone, please do so until you're ready to speak.
We recognize that some participants need more time to prepare their thoughts for the chat. So here are some general topics we would like to discuss with you on the upcoming chat. You can use the general topics to compose a prepared message. Please remember this chat is a conversation limited to one hour. Keep your message concise as possible, and be ready to have a discussion.
We may not be able to get to everyone's message in one-hour chat, especially when a topic sparks a good conversation that many people are commenting on. If you having something prepared that we didn't have time for, please let me know by sending an email to daretolead@isaac-online.org and we'll make sure you get a chance to speak the next available chat.

print