PWUAAC Online Chats
nnn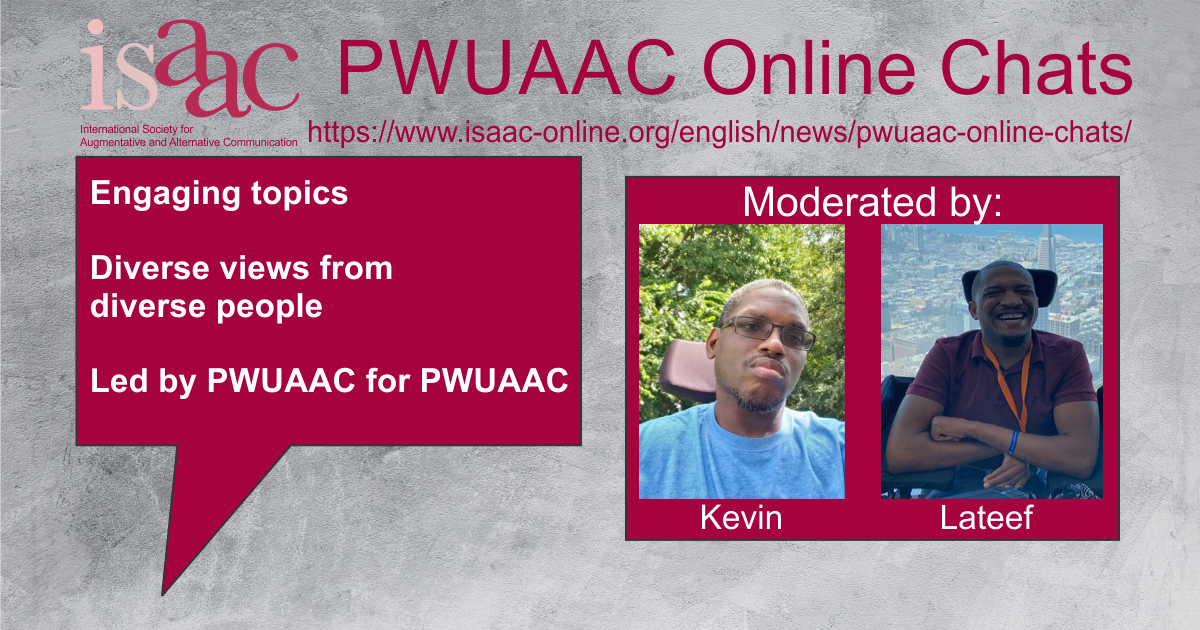 Date: April 12th, 2021
Time: 5:00 pm GMT / 1:00 pm ET
Host: Kevin Williams
Click here to check the date and time where you live. 
The objective of ISAAC Chats in 2021 is to increase participation through localization. Trying to increase participation from around the world by holding more chats with regional hosts. Many people who use AAC have regimented time schedules due to many factors. The hosts also have restricted time schedules. As Kevin and Lateef are both based in the United States, it limits the participation from other parts of the world. Over the past year, we have developed a good format of introduction of attendees and 2 topics. That we can recruit and teach other people who use AAC to host and lead a chat in their local region at a time that's more convenient for them. Yet any PWUAAC from all over the world can join us for any chat session if their schedule permits.
You can join the meeting using any Google account you may already have. Instructions for how to set up a Google account (if you do not already have one) are available here. 
If you wish to connect using your telephone only, telephone numbers and instructions can be found by clicking here. Note: Telephone numbers are provided by Google – not by ISAAC. As a result, not every country in the world has its own local dial-in number. 
To reduce feedback, headphones are recommended. They aren't required, but it's just easier for everyone. Another recommendation is that if you are physically able to mute your microphone, please do so until you're ready to speak.
Topics : 
Topic 1: Getting teeth cleaned, eyes examined, or a haircut can be difficult using an AAC device to express themselves. What are some strategies you use to respond to questions, notify when uncomfortable, or give an opinion in a conversation?
Topic 2: What song can put you into a happy mood, gets you hyped, or makes you feel like you can do anything?
Over the past year, we have developed a good format, starting with introductions by attendees, then discussions on two topics.
We recognize that some participants need more time to prepare their thoughts for the chat. So here are some general topics we would like to discuss with you on the upcoming chat. You can use the general topics to compose a prepared message. Please remember this chat is a conversation limited to one hour. Keep your message concise as possible, and be ready to have a discussion.
We may not be able to get to everyone's message in one-hour chat, especially when a topic sparks a good conversation that many people are commenting on. If you having something prepared that we didn't have time for, please let me know by sending an email to daretolead@isaac-online.org and we'll make sure you get a chance to speak the next available chat.

print