ISAAC 2012 Pittsburgh
USA
15th Biennial Conference of ISAAC, July 28 – August 4, 2012. Co-chaired by Katya Hill, Amy Goldman, and Søren Vintergaard.
The theme of ISAAC 2012 was Highest Performance Communication… Best Life Experience – WOW! Attendance topped 1,200 for the conference and exhibit hall.
2012 Conference Proceedings
ISAAC members can download the 2012 Conference Proceedings and the Research Symposium Proceedings here.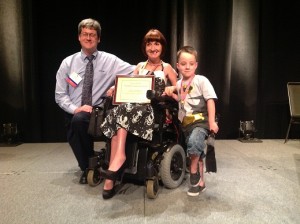 (L to R) Jeff Dahlen of Words+, Inc., Lisa Lehmann, Words+/ ISAAC Outstanding Consumer Lecture Award winner, and Lisa's son Hunter
The ISAAC Research Symposium took place immediately following the Main Conference, on August 3-4, 2012. To view the proceedings, please follow the link below:

print