Conference Cancún
Join us at ISAAC Conference Cancún.



July 22-23, 2023
AAC Camp, Pre-Conference Workshops, Executive and Council Meetings
July 24-27, 2023
Main Conference at the Cancún Center
Are you an ISAAC member? Members get reduced conference registration rates. Visit our FAQ page, which explains how to access these reduced rates.
Spread the news!
Download and share the ISAAC Conference Cancún poster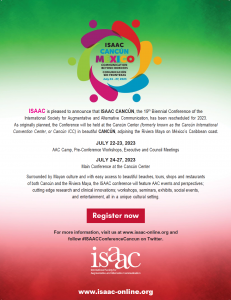 Download and share the press release in English and in Spanish
​
n

print