In the News
Watch this page for media coverage about Conference Cancún and relevant news from Latin America.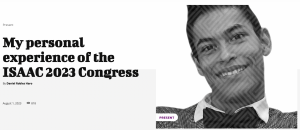 "The first impression I got when I managed to attend the ISAAC 2023 Congress, the first one held in Mexico, was that I was in a place that has everything to do with me and I can explain the reasons." – Daniel Robles Haro.
---
Yo Tambien – Get a scholarship for the most relevant congress on alternative and adaptive communication

Thanks to Catic, Mexicans will be able to attend the congress organized by the International Society for Augmentative and Alternative Communication (ISAAC) in August, paying a small part of the registration fee.
Read the article to learn more.
---
ISAAC Conference Cancun

El Universal Press Coverage

Watch this video about how former ISAAC President, Meredith Allan, benefitted from AAC, with an interview with Gabriela Berlanga, Conference Cancun Co-Chair.

---

print