Visitors to México
Explore the wonders of the Mexican Caribbean!
This beautiful and unique region includes Cancún, as well as Holbox, Isla Mujeres, Costa Mujeres, the Riviera Maya (which includes Puerto Morelos, Playa del Carmen and Tulum), Isla Cozumel, Maya Ka'an, and the Grand Costa Maya (Mahahual, Bacalar and Chetumal).
We encourage you to explore and discover all that it has to offer – blue sea, white sand beaches, tropical jungle, archaeological zones, cenotes, underground rivers, islands, lagoons, living Mayan culture and history. 


| | |
| --- | --- |
| | |
| |   |
| | |
​
Visa Requirements for México
Those travelling into Mexico may or may not require a visa to enter the country, depending on the passport that is being traveled under.
Important visa information, as offered by the Mexican Ministry of Foreign Affairs through its Consulate in Toronto, can be found by clicking here. 
Visitors from these countries are exempt from requiring a visa.
For visitors from all other countries, please read the important visitor visa requirements that can be found here.
Visitors from countries requiring entry visas are also strongly encouraged to contact a Mexican embassy or consulate in their country or region, for additional information.
Electrical Plug/Socket and Voltage Information
Mains voltage in México is 127V 60Hz. Travellers from Canada and the US should have devices/appliances with plugs that work on the same mains voltage as México and can make use of existing plugs – therefore you will not need either a voltage converter or plug adapter.
Note: Many modern devices/appliances run on a variety of mains voltages. Your appliance should be marked with this information or mentioned in the product's instruction booklet; e.g.,a power supply marked as "Input: AC 1.5A 100-240V 50/60Hz" does not require the use of a voltage converter as it works on a mains voltage range between 100V and 240V.
In addition to power considerations, most visitors to México (excepting visitors from Canada or the US) will need to ensure that their devices/appliances have the correct power plug adapter. México uses the international Plug Type A and B standards which are described further by the International Electrotechnical Commission (see links below).
www.iec.ch/worldplugs/typeA.htm
Cu

rrency
The Mexican peso (sign: $; code: MXN) is the currency of Mexico. In Cancún, all major world currencies (CAD, EUR, GBP, USD, and more) can easily be converted into pesos at local banks and currency exchange houses, of which many are available. In addition, the US dollar (sign: $; code: USD) is also freely accepted as a means of payment at many local businesses.
Having a small supply of Mexican pesos on hand is recommended, for use as local bus fare or small purchases in local stores.
Importing food into Mexico
The Government of México has outlined, in English, a listing of agri-food products for human and animal consumption, and the requirements for tourists to import those products into Mexico. Details at the link below:
Listing of Agrifood Products and By-products for Tourist Importation
FAQ
Check out ISAAC's Customer Portal to find answers to some frequently asked questions about travel to Mexico.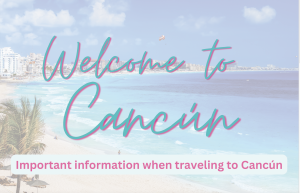 print