Film Festival
Film Festival Playlists
The Conference Cancun Film Festival was a great success! Thank you to everyone who made films, watched the films and voted on the films.
The winning film was Kiaro and his Words, submitted by Alessandra Gomes Buosi of Brazil.
Kiaro and his Words
Watch the top ten films screened at the Conference Cancun Film Festival. 
Watch all the films submitted to the Conference Cancun Film Festival.
Sharing your story is not limited to the film festival. Become an ISAAC Cam-On-Wheels Reporter and share your stories with the ISAAC Community. 
---
ISAAC Short Film Festival information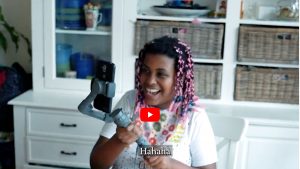 ISAAC Cancún Film Festival Promo Video
Film Festival Theme: Communication Beyond Borders
Reach beyond borders for augmentative and alternative communication to be recognized, valued, and used everywhere!
Categories:
Leadership – Raising awareness of AAC in all aspects of life and in all communities
Educational – Informing about ways people who use AAC across borders
Personal – A biographical story about a person who uses AAC


The film should also relate to one or more of the Conference Cancún themes:
Developing nations or regions in AAC
Raising AAC awareness across the world
Employment
Diversity
Justice
Culture
Relationships
Social Media
The top 10 films will be screened at the ISAAC Short Film Festival during the Welcome Reception, July 24, at ISAAC Conference Cancún. The winner will receive a free ISAAC one-year membership! Enter before Monday, May 22, 2023.
Deadline to enter is June 23, 2023.
​
Email your submission to filmfestivalcancun@isaac-online.org. Please read the above guidelines before doing so. 
Learn how to make your film
Cam on Wheels held a webinar about filming, editing, and interviewing with AAC.  
Watch the recording. 

print