COVID-19 Resources
The following resources have been compiled by the ISAAC UNCRPD Working Group, and you are welcome to contribute by submitting to feedback@isaac-online.org:
COVID-19 Resources (Official ISAAC version) (PDF, 142 kB)
Easy English: Do I have to wear a face mask (handout) (PDF, 3 MB)
Easy English:  Do I have to wear a face mask (poster) (PDF, 691 kB)
Aided Language Display – Coronavirus (PDF, 301 kB)
Coronavirus Poster (PDF, 583 kB)
What is PPE? Easy English – 4 May 2020 (PDF, 583 kB)
The Plan for School in Queensland – 9 May 2020 (PDF, 463 kB)
nnn
---
For information on ISAAC Conference 2020 postponement due to the COVID-19 pandemic, click here.
---
nnnn
COVID-19 and Communication Disabilities, Canada
ISAAC-Denmark has collected links to free resources – communication boards, electronic books, etc. – explaining the measures introduced to reduce the spread of COVID-19 virus.  The resources have been contributed by various donors – special teachers, companies and others.
ISAAC-Israel has freely available resources for intubated patients in 3 languages – Hebrew, Arabic, and Russian – all of which can be downloaded from their website: COVID-19 Free Tools
The Patient Provider Communication Task Force has developed a website of free tools for hospitals and health care providers to use when trying to communicate with COVID-19 patients.
nnn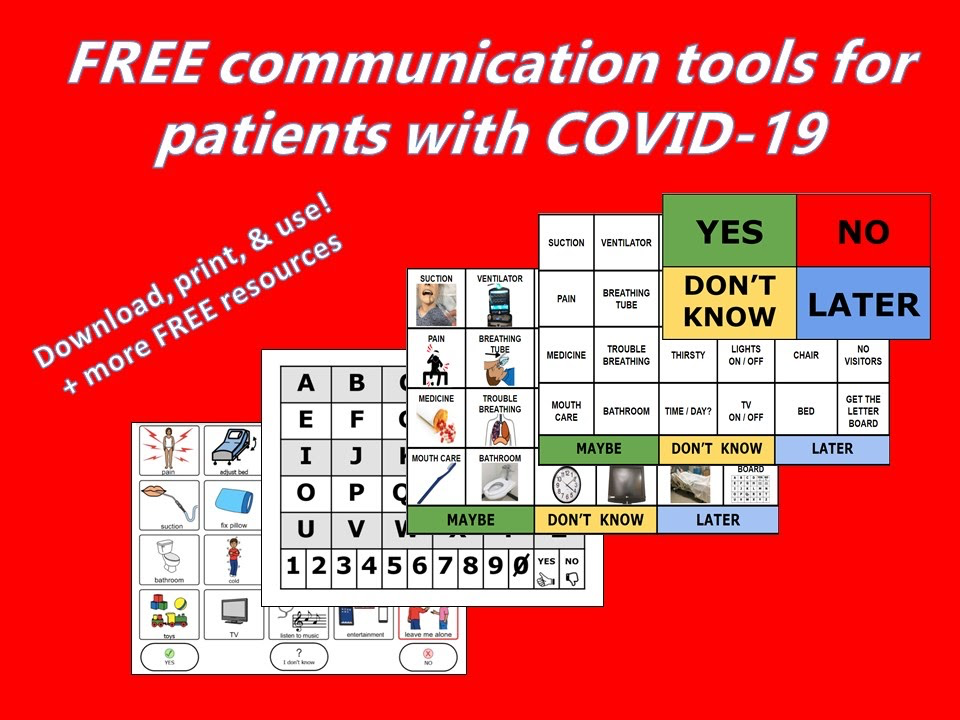 ---
nnnn
Visual Support Boards – Screening Clinic Guidance
Kit in English (PDF, 721 kB)
Kit in Chinese (PDF, 1 MB)
Kit in Vietnamese (PDF, 6 MB)
Visual Support Boards and Communication Support Image & Text Boards in screening clinic of coronavirus disease 2019 (COVID-19)
HyunJu Park, PhD1*, Seonkyoung Han, MA2*
The Visual Support Boards and Communication Support Image & Text Boards linked below explain each step for the screening clinic of the coronavirus disease 2019 (COVID-19). These kits are available for use internationally to assist health care providers and people with communication difficulties. Because these kits are based on the current practice and the Korean Centers for Disease Control and Prevention guidelines for the COVID-19 in Korea, all documents can be translated into different languages and updated according to local clinical practice and new guidelines for the COVID-19 management of each country. The boards are provided in 3 different languages (English, Chinese and Vietnamese).
Please Note: Because the copyright owner permits the modification of these kits, the language can be changed freely without contacting the authors. However, please send an email to withaac@gmail.com if you wish to modify any pictures and symbols.
Division of Speech-Language Pathology, Gachon University, Seongnam, Korea
Human and Communication AAC Center, Seoul, Korea
---
nnn
Many thanks to Cathy Basterfield, Access Easy English, and Consultant – Speech Pathologist (Australia), for providing the above resources.
What is Coronavirus? (PDF, 323 kB)
Look After Yourself (PDF, 489 kB)
Poster: Look After Yourself (PDF, 142 kB)
Poster: Look for the Signs (PDF, 94 KB)

print