"Disability. It's three letters too long."
19-Dec-2013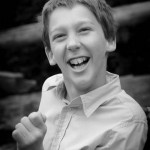 Christopher Hills is 17 years old and lives with his parents and younger sister on the Sunshine Coast in Queensland, Australia.  Born with athetoid cerebral palsy, Christopher uses computer technology to access his studies, and describes himself as a computer geek. He also happens to be a video producer, already building an impressive body of work. In 2012 he created his first video, called One switch. One head. The world. Encouraged by the response – it's now reached 101,298 YouTube views – he followed up with a series, Intersection – Where Technology and Disability Meet, and a number of video reviews on assistive technology products. For a recent university assignment he had to come up with a 30-second video on a topic of his choice. The result is Disability. Its simple message is beautifully conceived and expertly delivered:
Christopher uses specialized interfaces to access the computer technology he requires for video editing and post-production (he is an Apple Certified Pro in Final Cut Pro X). He explains, "I access my computers (Mac and PC) through a head switch using SwitchXS from AssistiveWare. I also access iOS devices using the Tecla Shield DOS, also through a head switch."
A tweet sent his way in response to Disability was, "Congratulations! What are you planning to excel at next?" His answer? "More video production! Love doing it & still have lots to learn." Christopher Hills is definitely one to watch in 2014.
Follow Christopher on Twitter @iAmMaccing and on YouTube. Thanks to Judy Bailey for her post about Christopher's video on Facebook.
________________________
This is our last blog post of the year. From all of us at ISAAC International, all the best for the holiday season!