Personalized Instruction and Communication in a Flash
Tuesday, January 12, 2021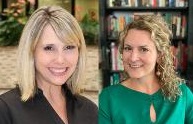 Presenters: Ashlyn Hudson, MOT, M.Ed and Amber Dollar, M.Ed
Moderator: Tracy Shepherd, President-Elect of ISAAC International
Webinar Description:  AAC adds an extra layer of complexity children must tackle to effectively learn and communicate. As educators and therapists, finding materials that are engaging yet challenging enough to promote skill development can be complicated. However, with the right supports in place, learners using AAC can flourish. Behaviour supports, adapted books and activities and communication boards can provide a path to increased participation, learning and confidence. Join us in this session as we introduce ideas on how to provide differentiated and accessible communication, behavior, and learning supports using Boardmaker.
Objectives:  Participants will learn:
How to create supports using Boardmaker templates
How to utilize and customize activities from Boardmaker
How to integrate learning and communication supports seamlessly
Presenter Disclosures:
Financial: Amber Dollar and Ashlyn Hudson are both full time employees of Tobii Dynavox
Non-Financial: Amber and Ashlyn have no non-financial disclosures.
Resources:
nnn

print