Learning to Kiss: A journey to expressive communication
11-Nov-2016
Billy Megargel is a non-verbal young man with autism. He is also an accomplished artist, a budding musician, and a self-fulfilled adult. Learning to Kiss is Billy's remarkable story, beautifully written by his mother, Eve.
According to Eve, "When Billy was diagnosed at age two, we were told by the experts – doctors, special education consultants – that 'the main thing Billy needs to learn is to comply.' I didn't know much then, but that struck me as wrong. The bar had been set very low. To us, what Billy needed most was to learn how to communicate." Specifically, Eve's communication goals for her son were that he learn how to be able to expressively communicate his wants, needs, and feelings in addition to being receptive to what was said or what he read. He needed AAC strategies to support all aspects of communication.
Medical issues dogged Billy's path through adolescence. But his family never gave up the struggle to help him communicate. During that difficult time, what others termed "autism behaviour", Eve recognized as the breaking down of communication as he struggled with chronic pain.
Recently, during International AAC Awareness Month 2016, Eve Megargel gave an awareness presentation at Holland Bloorview Children's Rehabilitation Hospital in Toronto, Canada, as part of her press tour for Learning to Kiss.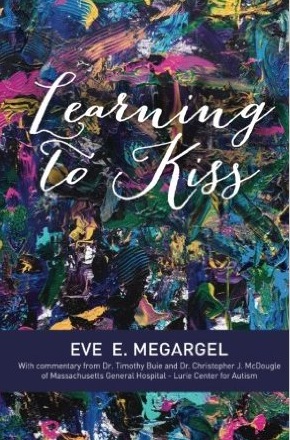 Author Eve Megargel has developed Voice Colours® Communication Resource Model, an educational approach that integrates learning with art, yoga, music, and more. Eve also works with Massachusetts General Hospital – she is a member of the MGH Family Advisory Council and the Lurie Center Leadership Council – and the Jewish Family and Children's Services of Boston. She served as the Communication Chair for the Lurie Center's  Autism Care Questionnaire (ACQ), "a brief survey completed by a patient or the patient's caregiver prior to a planned or unplanned medical visit."  A documentary film about Billy, Voice Colours: Billy's Story, is available online.