"Our Words are Worth Waiting For"
08-Apr-2019
This post is an excerpt from The ISAAC Communicator, March 2019 edition, "Message from the ISAAC President" by Meredith Allan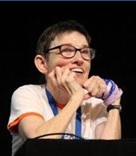 In Geelong, a city about an hour from my home city of Melbourne, a group of parents and support people meet every four weeks to discuss their children's needs and the AAC strategies they use.
Here is a list they came up with at the end of last year:
Visual/object/association/preparing the environment
Model
Expect a response
Prepare
Waiting
Verbal prompt
Respond
Give them device
Interpret – clarify
Feedback
Open-ended questions
Communication Partners
The group did well. This list could almost be used for a lifetime.
How often as we grow older does a communication partner ask a question but doesn't wait for a response, or answers for you?
Our words are worth waiting for.
____________________________________________
Meredith Allan lives in Melbourne, Australia, and has used a text-to-speech communication device for 25 years. Read more about Meredith in the April 2019 edition of Link magazine (click through to page 38 from the Table of Contents).