Conference 2016 DropBox
NOTIFICATION TO ALL AUTHORS – DropBox Submission Presentation Folders
ISAAC is once again pleased to offer each Conference 2016 author access to an individualized DropBox folder. Your DropBox folder is a secure place to store and share all your conference presentation materials.
This means that you will be able to securely upload files into your DropBox folder, which only you and your co-authors have access to. These files will be available to you for presentation at the conference, without having to bring them with you on USB flash drives or other such storage devices. By storing your work on DropBox, you can be sure that the materials are both secure and backed up.
Other benefits include:
• When you arrive at the conference, your presentation materials will be waiting for you on a computer available in the room in which you are presenting.
• If you are being offered a poster presentation and want to take advantage of local Toronto printing, your electronic materials can be submitted for printing to ISAAC through your secure DropBox folder. Details are available on the ISAAC website.
• You and your co-authors can easily share your presentation materials through DropBox.
• Your presentation files can be edited until just before the Conference, knowing that these edits will be automatically transferred to the Conference computer system.
• All the files will be available to ISAAC for uploading to the website after the conference via the same DropBox where you have stored, updated, and finalized your presentation.
When your individual submission folder has been created, the system will automatically send a message to the email address(es) originally provided by you to our Conference 2016 submission system. The DropBox emails will look like this: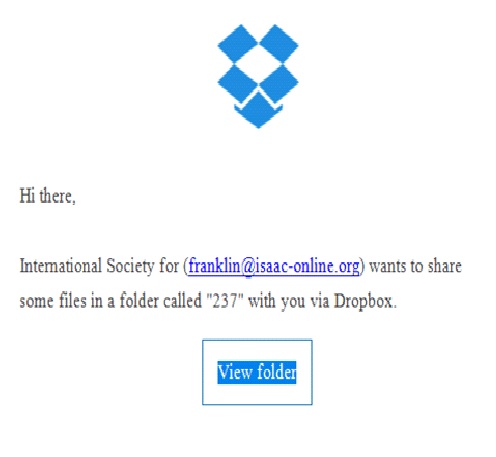 These emails are legitimate, and it is safe to click the "View folder" button.
If you have already received one or more of these invitations, and your submission ID number is greater than or equal to 194, your deadline to accept is Friday, April 15th. After that, unaccepted invitations will be deleted, and it will be necessary to request another invitation by sending an email to ISAAC International at dropbox(at)isaac-online.org.
If you have not received one or more of these invitations, don't worry! You will receive one within the next week to 10 days. We are sending the emails out in stages due to the volume of work involved in setting up this system.
We will update this webpage with the latest information available, so please do check back regularly.

print